Pioneers
A selection of visionaries and pioneers who have featured in Resurgence magazine – people who have made a significant difference to the world we live in and who inspire us to 'be the change'.
A Modern Mystic • Clare Dakin

Sadhguru integrates spirituality, ecological restoration and service with humanity. In 1992 he founded the Isha Foundation, a non-profit organisation dedicated to cultivating human potential. In 2006 over a million volunteers helped Project GreenHands to plant 850,000 trees in one day. Read more...
Living Without Oil • Mark Boyle

Inspired by the Transition Towns initiative, which helps communities evolve from the modern consumerist scenario to the post-peak-oil world, Mark Boyle decided to investigate how far along the personal Transition path it's possible to walk. Read more...
Visionaries • Herbert Girardet

John Seymour could be described as a one-man rebellion against modernism. After studying the great diversity of human lifestyles for many decades, his uncompromising conclusion was that people should try to live close to nature, and should seek to be self-reliant in food as well as entertainment. Read more...
Learning From Trees • Wangari Maathai

Wangari Maathai founded the Green Belt Movement, an NGO that aims to mobilise community consciousness for self-determination, equity, improved livelihoods and security, and conservation. She is an environmentalist, a human rights activist, and a parliamentarian. In 2004 she received the Nobel Peace Prize. Read more...
A Philosophical Giant • Michael Tobias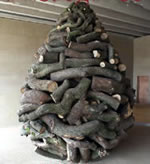 Rabindranath Tagore is the most universally recognised literary, artistic and philosophical giant of the last 150 years of Indian history. The national anthems of both India and Bangladesh have Tagore's signature attached. His thousands of songs, poems and other writings have done for Asia, and the world, what few others have ever achieved single-handedly: a comprehensive overview of what it is to be a poet, an artist, grappling with Nature and with God. Read more...
The Gandhian Trinity • Satish Kumar

Mahatma Gandhi held no office, pursued no career, accumulated no wealth and desired no fame. Yet millions of people are captivated by his life and his achievements. Gandhi inspired so many because he practised what he preached: he lived the change he wanted to see in the world. Read more...
More visionaries and pioneers who have featured in Resurgence magazine