Download Avatar e-book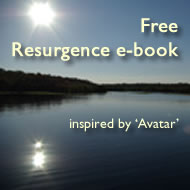 In order to receive your free copy of Avatar, please register here.
We're confident you will enjoy Avatar. Why not stay in touch with Resurgence and sign up to receive the latest news and information about the magazine and Trust?
If you are already registered with us, please log in, above.
The Resurgence Trust
We invite you to make a donation to the Resurgence Charitable Trust which will support our long-term development. This includes increasing the magazine's circulation, commissioning more cutting-edge articles, and broadening our web-based community of supporters.
Membership Subscription enquiries
Contact Resurgence Membership Department members@resurgence.org