Schumacher College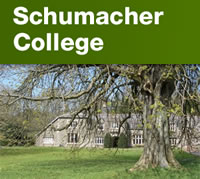 Schumacher College, co-founded by our Editor-in Chief Satish Kumar, has been at the forefront of radical new thinking and education for 20 years and welcomes teachers and participants from around the world.
Now that you have been inspired by what you read in Resurgence & Ecologist, we invite you to spend more time learning alongside the leading thinkers and activists of our day with Schumacher College.
Schumacher College network
By joining the College's international network, you can connect with thousands of like-minded people who are putting into practice the inspiration and ideas that Resurgence and Schumacher College support.
Sign up to the network by emailing publicity@schumachercollege.org.uk with 'Resurgence' in the subject title. You will receive a monthly newsletter of news, ideas, events and offers from teachers, students and partner organisations.
More information on Schumacher College, including details of post-graduate courses accredited by Plymouth University and regular short-courses