Extras for Resurgence Magazine Articles
Waves of Joy (Resurgence 256)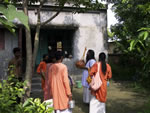 The Bauls of Bengal connect music, spirituality and nature.
The ecstatic path of music is a way of life, which is central to their community. Through music the Bauls honour their traditions and convey a spiritual message to others.
The music combines three elements: tune, rhythm and words, which merge in performance into one experience, creating a state of joy that allows performers and listeners alike to access the divine within. The music of the Bauls has an immediate and deeply emotional resonance.
To appreciate the article Waves of Joy more deeply, we present a sample of Baul music for your enjoyment.
Download MP3 music tracks here:
Photographs: Courtesy Valentine Harding
Read the Resurgence article: Waves of Joy by Valentine Harding here...