Green London Way
28 May – 02 Jun 2012
In celebration of pilgrimage, community, local history and abundant wildlife, botanist Jon Every will be walking The Green London Way from 28 May to 02 Jun 2012.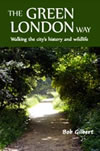 A collaboration between The Yarner Trust and The Resurgence Trust, this 110-mile walk is based on the newly revised book The Green London Way written by inner-city conservationist Bob Gilbert and republished by Lawrence and Wishart. The new edition includes a walk around the Olympic site perimeter and is being republished to raise awareness of the impact of rapid urban development including that of the London Olympic site on our cities.
To celebrate the 50th anniversary of his own extraordinary peace walk, Satish Kumar will be walking with Jon on the last day (2 June) and we invite you to join them (or just Jon) for part or all of this pilgrimage.
Details of walk on 2 June (Day 5)
Supporting Sustainable Living in action

Jon will be raising money for The Yarner Trust, a charity running adult courses in sustainable living, plus family activities, environmental arts camps, and school visits. Money raised will enable The Yarner Trust to offer financial support to students — making their courses accessible to people on low incomes — and help expand the education and outreach work of the Trust.
You can find out more and donate on-line here
Making connections
The Green London Way presents an alternative approach to the exploration of London. Along the route, Jon hopes to make contacts with inner city social enterprises such as The Garden Classroom (of which the author of The Green London Way, Bob Gilbert is Chair) to increase the range and impact of the work done in Devon by The Yarner Trust and its associates. If you are en route and would like to come along or be involved in any aspect of the walk, please contact Jon Every.

Offers of help with publicity and support are also welcome. Please contact Jon Every.
More details about The Yarner Trust and how to sponsor Jon's walk