Resurgence Questionnaire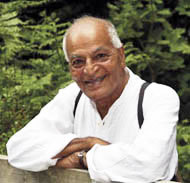 Over the past 45 years Resurgence has shared with you its vision of a beautiful world where soil, soul and society are in harmony with one another. Now we would like you to share with us some information about you.
Your life and your vision will help us to build a movement of people who are seeking new ways to live in times of great transformation.
In 2011 we wish to raise £45,000 to enable Resurgence to reach a wider audience by increasing our membership. As a valued reader, we need your active participation to help us achieve this. We would appreciate it if you could please spare a few minutes of your time to fill in our short questionnaire.
Thank you!
Your sincerely,

Satish Kumar
Editor-in-Chief

Resurgence magazine celebrates 45 years of publication