The What on Earth? Wallbook
Reads like a book or hangs on a wall!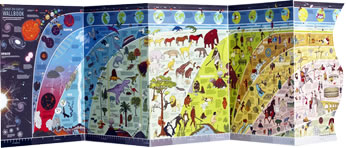 13.7 billion years of history on a unique 2.3 metre-long timeline.
"A truly epic undertaking, in terms of layout, typography, design and sheer scale of ambition..." • Christopher Middleton, The Daily Telegraph.
The What on Earth? Wallbook by Christopher Lloyd, is the first ever attempt to illustrate the entire history of everything from the beginning of time to the present day. It features more than 1,000 pictures and captions that divide into twelve streams of colour on a timeline along which all the major events of natural and human history unfold.
Designed as a unique gift for anyone in the family, the What on Earth? Wallbook is the first publication from What on Earth Publishing, a new company founded by Christopher Lloyd, author of acclaimed world history What on Earth Happened?, now translated into 15 languages worldwide.
By illuminating the past on a timeline that can be read back to front, top to bottom and right to left, anyone can get a grasp of the amazing history of planet, life and people
Christopher Lloyd
Christopher Lloyd asks: "Please support our new company by considering purchasing the Wallbook as a gift for yourself, family or friends, especially in the run up to Christmas..."
The conertina-folded What on Earth? Wallbook is A3 sized and features hard-backed outer covers for extra durability. It is printed on high quality 200 gsm paper allowing it to be read like a book or hung on a wall. A 7,000-word narrative on the back takes readers through the whole sweep of natural and human history.
The What on Earth? Wallbook is not currently available in bookshops. It can be purchased at the special introductory price of £15 (RRP £17.50) either through What on Earth Books or by calling the Wallbook orderline on 01443 828811.
Please note: to make your copy trigger a donation to Resurgence, type 'Resurgence' in the Offer Code box at the online checkout or, if ordering by telephone, please mention the word Resurgence to the operator.
Many thanks for your support.