The Resurgence Trust Charity Auction
We have a small number of exclusive pieces from the The Resurgence Trust Charity Auction to offer for sale. This is your opportunity to support The Resurgence Trust and purchase an original piece of art. The following four pieces are offered for auction.
The four pieces below are offered for sale as part of The Resurgence Trust Charity Auction. If you would like to purchase any item, please contact to Lynn Batten on 01237 441293 or email info@resurgence.org.
Christopher P Wood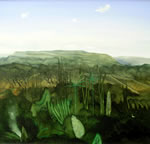 Read about Christopher P Wood here...
Mid Day Moon
2000
Oil on Canvas
71.1 x 76.2 cm
Guide price: £2,000
Born and raised in Leeds, Christopher initially studied at Chelsea College of Art. In 1987 he returned to Leeds, avoiding the fashions and commercial pressures associated with the London art world at that time.
Keith Grant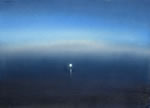 Read about Keith Grant here...
Void
Oil on board
50 x 70 cm
Guide price: £4,500
Keith is from a working class background in Liverpool, upon discovering he was a painter at the age of twenty-seven he decided that his task was to become the painter of the austere and extreme beauty of the North.