Presenting a Green Agenda for the Copenhagen Climate Summit

Image: A visual representation of the conference by Julian Burton - see a larger version (it will display in your browser but you will probably need to scroll up and down and left and right to view all of it). Full colour print available free to groups wishing to use it to spark debate. Contact Julian
The Resurgence conference on Resilience and Climate Change was held on 03 Oct 2009 in association with The Green Party, The Green Alliance, Greenpeace and Artists' Project Earth. These speakers made presentations at the event: Sir Crispin Tickell, Caroline Lucas MEP, Stephen Hale, Tony Juniper, John Sauven, George Marshall and Satish Kumar. There was also poetry by Deborah Harrison.
'The Need for New Leaders' - Lorna Howarth reports on the event.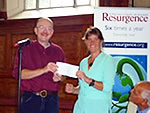 George Marshall presented the cheque to Sophy Banks.
Artists' Project Earth Award
At the conference Artists' Project Earth announced a special award of £32,000 to The Transition Network for its work in helping to mitigate serious climate change. Sophy Banks, Co-founder of Transition Training, who collected the cheque on behalf of The Transition Network believes, "We don't have to wait for politicians to tell us what to do, we just have to get motivated into taking action. If, as communities, we can transform our own systems of living so that they are vibrant, upbeat, and meet challenges head-on with compassion and goodwill, then we can seed a wave of cultural diversity and social justice that will ripple across the world." Read more here...
Speaker Profiles and Talks
Sir Crispin Tickell • Looking Ahead to Test our Resilience

Human history has been profoundly influenced by climate change. Peoples have had to migrate, cities have collapsed and societies have been transformed. Now change is accelerating. How can we best see ahead, manage change so far as we can, and adapt ourselves to the consequences? The answer is the test of resilience.
Sir Crispin Tickell, former Ambassador and Permanent Secretary of the Overseas Development Administration, is one of the world's foremost authorities on climate change. He is a leading environmentalist and has been an independent environmental advisor to successive UK Prime Ministers. His time is spent educating and advising governments, scientists, businesses and universities around the world on the importance of sustainable development.
Caroline Lucas MEP

Leader of the Green Party and Observer Ethical Politician of the Year.
Caroline Lucas was first elected to the European Parliament as one of the Green Party's first MEPs in June 1999. Caroline is a member of the International Trade Committee and the Environment, Public Health and Food Safety Committee. She also sits on the Parliament's Temporary Climate Change Committee. She serves as Vice President of the Animal Welfare, Health and Consumer and Globlisation cross-party Intergroups, as Co-President of the Peace Initiatives Intergroup and is a member of the Parliament's Permanent Delegation to Palestine.
Stephen Hale • Climate change: who pays?

Stephen Hale will outline how the costs of tackling climate change are the central issue for Copenhagen, and the solution that must be agreed by the world's wealthiest countries. An ambitious global agreement requires agreement on who pays for adaptation and mitigation both in these countries and in the developing world.
Stephen has been the Director of Green Alliance since June 2006. He is the author of 'The new politics of climate change' (2008) and currently the third sector chair of the ministerial task force on climate change, the environment and sustainable development. Prior to joining Green Alliance he was a Ministerial special adviser at the Department of Environment, Food and Rural Affairs from 2002-06, focusing on climate change. He worked in the private sector as an adviser on environmental and social issues from 1997 - 2002. He has a Master's Degree in sustainable development, and a degree in economic and social studies. Stephen is also a trustee of Christian Aid.
Tony Juniper • Repositioning the Debate

The climate change debate has hitherto been focussed on risk, threat and the technologies needed to secure lower emissions. This has resulted in the widespread view that climate change is both scary and complicated, and perhaps explains why there is confusion and as yet only sporadic uptake of solutions. The debate now needs to be actively repositioned to show how a wide range of positive outcomes can be secured through moving toward a more climate resilient society: better health, stronger communities, enhanced energy security and a more stable economies included.
Tony Juniper is Special adviser to The Prince of Wales' Rainforest Project and Senior Associate at the Cambridge University Program for Industry and a former Director of Friends of the Earth. His environmental work spans more than twenty years and ranges from public awareness activities to global campaigns to protect the environment. He is a naturalist and ornithologist and the co-author of the award-winning Parrots: A Guide to the Parrots of the World and Spix's Macaw: The Race to Save the World's Rarest Bird.
John Sauven • Executive director of Greenpeace UK

John Sauven starting working for Greenpeace in the early 1990s, Sauven was involved in the campaigns to ban underground nuclear testing in the Pacific and campaigns against Trident in the UK. He has also been involved in campaigns to protect the temperate rainforests on the west coast of Canada and to halt deforestation in the Amazon, Congo and Indonesia.
George Marshall

Founder of the Climate Outreach Information Network, and member of the Advisory Board of Artists Project Earth.
George Marshall has twenty years experience in research and campaigning and outreach for environmental and indigenous rights organisations. He has worked as a senior campaigner for Greenpeace and the Rainforest Foundation, and as a policy consultant to the German and Papua New Guinean governments. He has authored fifteen major reports and won nine awards for his video documentary work. Before joining COIN George was one of the founders and co-ordinators of Rising Tide, a national network of grassroots climate change campaign groups. He has spoken and written widely on climate change issues and sustainable lifestyles including articles for The New Statesman, The Guardian, and The Ecologist. He is the author of Carbon Detox.
Satish Kumar - The root causes of climate instability

Satish will consider the root causes of climate instability. The climate change crisis is an opportunity to re-examine the western world view and our desire for unlimited material consumption, without such examination mere technological solutions will not resolve the climate crisis.
Satish Kumar is Editor of Resurgence magazine and Director of Programme at Schumacher College. Satish lectures and gives workshops worldwide on spiritual ecology and holistic education. His books The Buddha and the Terrorist, You Are, Therefore, I Am and his autobiography No Destination are published by Green Books. His new book Earth Pilgrim will be published in October 2009.