Resilience and Climate Change Supplement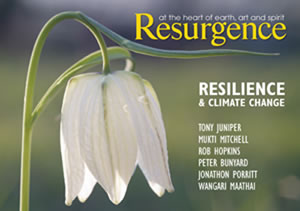 Free download
We have produced a special supplement featuring articles on climate change, resilience and reforestation.
You need to be a registered user in order to be able to download the FREE supplement.
Extracts include:
A Time for Action by Tony Juniper
Resilience Thinking by Rob Hopkins
Trees are the answer, an interview with Wangari Maathai
In order to receive your free download, please log in at the top of the page or register using the form below.
We're confident you will enjoy this free download. Why not stay in touch with Resurgence and sign up to receive the latest news and information about the magazine and Trust?
If you are already registered with us, please log in, above. Otherwise, you will need to register using the form below to be able to download the FREE supplement.
Membership Subscription
If you would like to receive regular copies of Resurgence & Ecologist, why not take out a membership subscription?
As a member you will receive six issues of Resurgence & Ecologist magazine a year delivered to your door.
For membership subscription enquiries
Contact Resurgence Membership Department
The Resurgence Trust
We invite you to make a donation to the Resurgence Trust which will support our long-term development. This includes increasing the magazine's circulation, commissioning more cutting-edge articles, and broadening our web-based community of supporters.
Privacy Policy
We do not sell, give or barter email addresses or pass on any details about our visitors or members to other organisations.