The Reluctant Rebels
Donate Now
Issue 270

Jan/Feb 2012
A New Moral Compass
Regulars
Sensible Solutions
The Reluctant Rebels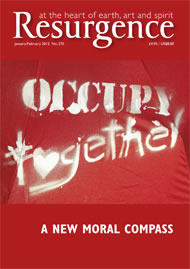 Cover: Photo: Action Press/Rex Features
Sven Eberlein meets the award-winning green energy campaigners now at the forefront of Germany's new industrial revolution.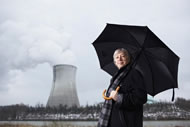 Ursula Sladek winner of The Goldman Environmental Prize www.ews-schoenau.de
When Ursula Sladek first grasped the severity of the fallout from the Chernobyl nuclear meltdown in the spring of 1986, the mother of five from the small town of Schönau (population 2,382) in Germany's Black Forest region had no clue she would one day be co-founder and president of one of Europe's first and largest cooperatively owned green energy companies.
Like that of most citizens in the developed world, the 2011 Goldman Environmental Prizewinner's life was once far removed from the energy sources that light our homes and power our appliances. But when the German government began to caution against eating leafy greens and recommended powdered instead of fresh milk for children, she says it felt as if a bomb had detonated: "All of a sudden we were wondering what to feed our children and it became very clear how small the world really is."
And just like her, many friends and neighbours in her community who had never thought about energy before started to wonder too. She recalls saying to her husband, a member of their local church council at the time: "Michael, this should also be the church's concern because we're dealing with God's creation here. We can't just destroy it like that." The couple wrote letters to the bishop but got placating responses and nothing actually happened. The government's only reaction was to raise radiation limits (a tactic being used again today in the aftermath of the more recent tragedy in Fukushima). "Nothing changed and so we realised we would have to step up and create the change we wanted ourselves."
The Sladeks got together with a small group of like-minded people, calling themselves Parents against Nuclear Power until one group member said he didn't like being against something; he wanted to be for something. "To be for something gave everyone a different feeling, so we called ourselves Parents for a Nuclear-free Future. Of course," she now muses, "this is impossible, but everyone knows what we mean."
The new group's activism raised quite a few eyebrows in their conservative hometown, so they decided to form a club, something people were more familiar with. "Clubs are non-profit, which meant we were doing something for the public good, and this gave us a lot more credibility," Ursula explains. They also decided to stage cultural events, holding energy-saving contests and assembling their own cabaret group, Wattkiller. Being able to make light of themselves wasn't just an icebreaker with their fellow citizens: it also helped Ursula and her group cope with the enormity of the cause they had chosen to take on: "When we were exhausted from all the serious business, the fun cabaret nights re-energised us."
As it turned out, the Schönau energy rebels would need all that energy in overcoming their next, more formidable obstacle. "We went to KWR, the power company that was operating the local grid, and asked them whether they'd like to join our conservation efforts," Ursula recalls. "We just wanted to add a few energy-saving measures, like rates based on consumption, and incentives for more cogeneration units, but they said, 'Conserve energy? Have you lost your mind? We want to sell energy, not save it!'"
Parents For a Nuclear-free Future decided they were not going to let the power company get away with an attitude based on deep-rooted ignorance, setting the stage for a six-year campaign to challenge KWR's monopoly and raise funds to take over the Schönau grid. KWR's licence was up for renewal in 1991, and after two hard-fought referendums – both in the energy rebels' favour – and the now infamous nationwide Ich bin ein Störfall campaign – which raised DM5.7 million (2.9 million euro) to buy out KWR – the newly formed and community-owned power company EWS, with Ursula Sladek at the helm, began operating Germany's first nuclear-free grid in July 1997.
Ich bin ein Störfall (literally: 'I'm a disturbance') is a provocative play on the double meaning of the German word for a nuclear incident, depicting ordinary people as nothing but annoyances to the nuclear industry. Conceived, pro bono, by one of Germany's largest advertising agencies, it was an instant media hit. The timing too was great. With the liberalisation of the European electricity markets in 1998, customers could now choose which power company to use – and a growing number of people liked the idea of getting clean energy from a non-profit cooperative.
With total sales reaching 67 million euro in 2009, EWS has long outgrown its local market. While Schönau boasts three times the national average in photovoltaics (20 cogeneration units, two hydroelectric plants and a wind turbine), EWS provides power from over 1,800 solar, hydroelectric, wind, biomass and cogeneration facilities to 115,000 homes and businesses throughout the country.
But for Ursula Sladek it's not all about big numbers. As she reaches out to towns across Germany with advice on how to set up their own community-owned energy companies, she points out the importance of focusing on small projects that are feasible: "There's nothing more gratifying than to be able to say, 'See, it can be done!' We've been working on our grand vision for 25 years but haven't actually shut down a single nuclear plant. However, we did a number of other things that felt like successes, and made sure we celebrated them."
With the Merkel government's recent decision to phase out nuclear energy by 2025 and switch to 100% renewables by 2050, the former rebels suddenly find themselves at the vanguard of a new energy era. While fossil fuels, especially natural gas used in cogeneration, will be needed in the interim, Ursula sees the dawning of a new industrial revolution: "We already have about 350,000 jobs in the renewable energy sector and we're developing all kinds of new technologies for energy storage, new power lines, and intelligent networks to transport electricity from solar facilities or offshore wind parks to users across the country. There's going to be a complete transformation, and the world will look very different when we're done."
Undoubtedly, Ursula Sladek and EWS will be at the centre of this movement, though this time not as feisty underdogs but as major players, a role she doesn't mind at all. "I was never really a rebel or a contrarian but rather someone who wants to build something positive and constructive, so this new role really suits me. I love to inspire and create change together with others. There's a lot to do still, but we won't be running out of work any time soon."