A Meditation in Stone
Donate Now
Issue 284

May/Jun 2014
Ecological Feminism
The Arts
A Meditation in Stone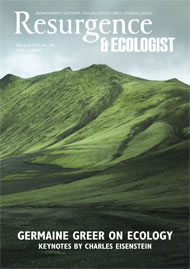 Cover: Landmannalaugar, Iceland ©Zack Seckler/Corbis www.zackseckler.com
Anthony Turner's sculptures offer us a sense of communion with Nature, says India Windsor-Clive.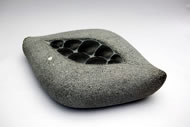 Black Lilypod by Anthony Turner www.anthonyturner.net
"To see a world in a grain of sand and a heaven in a wild flower, hold infinity in the palm of your hand and eternity in an hour." – William Blake
The glint of a smooth whitish stone buried in a Maasai riverbed caught Anthony Turner's eye as a young boy growing up in Kenya. He dug it up to find a perfectly spherical crystalline stone in the palm of his hand. He was told it could be a meteorite or a hunting weight. This oracular stone was to be one of the first signs to later turn Anthony's creative energies to the sculpting of stone.
Unlike so many sculptors preoccupied with the human form, Anthony's contemplation of botanical forms embodies a deep response to Nature. He sees whole worlds and systems transcribed in a single fruit; a history and understanding of life in every vegetable. He considers seeds to be universal symbols of potential, growth and transformation; their simple, evolved beauty and purposeful structures serving as archetypal signs of life.
Anthony unveils delicate forms from the stone's raw state with a seamless quality. Seeds and bean pods coil and spring from budding forms, as he captures a sense of their latent energy and natural tension in stone. Differing textures are created with great finesse. Using a chisel and pointed hammer, multiple little bruises whiten the surface of the stone. Whilst filing, sanding and polishing reveal whole landscapes within – from Iranian red travertine's fiery deserts and crystalised crevasses, to Connemara marble's cool and balmy green seas.
Anthony's sculptures are a celebration of food and plenty. They pay homage to the richness of the vegetarian world – its simple perfection that is at once complex and complete, nourishing and sustaining; "there's a kind of meditation in the making and the contemplation of them. Without using any words I feel I can describe what's exciting about Nature. I also hope that at some quiet unconscious level I'm promoting ideas of sharing the abundance of Nature more equally".
Once described as 'domestic deities', Anthony's sculptures offer us a sense of communion. Hymnals for a shared experience, they are unifying in their form and primal suggestiveness.
Carving in stone, Anthony engages with age-old dialogues of material and presence, Man and Nature, time and trace. As fragments of reality fashioning their own space, stone sculptures are singularly immediate. Wholly present yet existing in conversation with the past and the future, stone's longevity permeates historical perspectives with archival depth and ancient mystique.
Anthony's work will be exhibited at this year's On Form sculpture show in the Cotwolds in June. Staged in the picturesque gardens at Asthall Manor, overlooking the Windrush Valley, On Form is the UK's largest and only exhibition dedicated exclusively to stone sculpture. (It was in fact a commission by Asthall Manor's owner Rosie Pearson for Anthony to sculpt two gate finials for the house in 2002 that inspired the idea for the exhibition in the first place.)
With cultivated forms and natural wildness, the gardens here offer a remarkable setting in which tradition meets the contemporary alongside imaginative curating and an interactive exhibition ethos. On Form's growing reputation as an unparalleled showcase of stone sculpture is to be affirmed with this year's exhibition bringing together a diverse group of sculptors, from emerging talents to more well-established names such as Dominic Welch, David Worthington and Spanish sculptor Jordi Raga Frances.
In an age obsessed and even dependent on that which exists only in the digital and 'immaterial' realm, the physicality of stone sculpture such as Anthony's holds a special resonance. As Anthony himself describes, "there is something real and tangible about carving stone. There's no pretension or illusion involved". Whilst enlivening a sense of being, his sculptures seem sacred, centered and grounding. There is a spirituality in their simplicity; they are timeless, infinite and still.
On Form 2014 will be taking place at Asthall Manor, Burford, Cotswolds from June 8 to July 6, 2014. www.onformsculpture.co.uk www.anthonyturner.net