Free as a Bird
Donate Now
Issue 285

Jul/Aug 2014
Energy of Nations
Reviews
Free as a Bird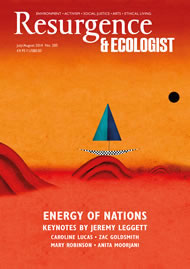 Cover: Illustration by Michael Morgenstern www.mmorgenstern.com
Stefana Bosse admires a young activist who speaks out for freedom. I Am Malala: The Girl Who Stood Up for Education and Was Shot by the Taliban by Malala Yousafzai, with Christina Lamb. Weidenfeld & Nicolson, 2013. ISBN: 9780297870913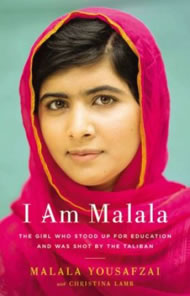 Malala Yousafzai
Malalai of Maiwand rallied Afghan men in 1880 to defeat the British, losing her own life in the process. Malala Yousafzai is named after her, and in her fight for female education she almost faced the same fate. "Who is Malala?" the gunman demanded upon entering the school bus. Today there are few people who do not know.
I Am Malala is a moving memoir, co-written with Christina Lamb. It is a rare and stirring first-person account of life in a region that has seen military coups, political assassinations and dictatorships, been a battlefield of the War on Terror, and suffered two of the most destructive natural disasters of the last decade. Malala's experience adds a new narrative to events such as September 11th, the invasion of Afghanistan, and the pervasive use of US drone attacks in Pakistan, offering a new historical and intercultural understanding of a region so commonly misrepresented and misunderstood.
But much more than that, I Am Malala is a testament to the best and worst in human nature. The rise of the Talib Maulana Fazlullah, the subsequent bans on dancing, DVDs and female education, and the public whippings, executions, and bombings of schools are alarming reminders of the innate human capacity to do just about anything, given certain social conditions. And at the same time, the courage of Malala, her father and others to speak out for freedom in the face of unfathomable danger is a bastion of hope for humanity.
Wise beyond her years, Malala does not simplify the distinction between good and bad. She closely escaped death, endured several operations, deafness and facial paralysis, and has to live in exile, yet she does not feel anger towards her assailant. Instead she understands the explosive combination of a lack of education coupled with indoctrination. Her own father serves as a prime example. He himself had prepared to become a jihadi and prayed for martyrdom in his teenage years, only to later recognise his experience as brainwashing, thanks to his inquisitive mind and a secular uncle.
I Am Malala is as much a story about Malala's exceptional father as about Malala herself. Ziauddin Yousafzai struggled unwaveringly for his dream to establish schools that would educate both girls and boys, enabling those young minds to enter the world of dreams and aspirations where they could explore their potential for their future lives. And in a society bent on keeping women locked away, he proclaimed that Malala would be free as a bird.
Malala's story is an inspiring tribute to the power of education, both parentally and institutionally. It was her campaign for nationwide education for girls that intimidated the Taliban, but it was her parents' love, encouragement and model example that fostered her resolute spirit, courage and integrity.
Despite the unimaginable hardship she has suffered, Malala shows no regret; nor does she complain about what happened. And far from silencing her, the Taliban made Malala's campaign global. She does not want to be thought of as "the girl who was shot by the Taliban", but as "the girl who fought for education". And she has bigger plans still. Aware that "there are so many crises and no real leaders," she wishes to return to Pakistan, become a politician, and guide her nation out of its misfortunes.
As Eleanor Roosevelt once said, "The future belongs to those who believe in the beauty of their dreams."