A Search for the Life of Meaning
Donate Now
Issue 293

Nov/Dec 2015
Go With the Flow
Reviews
A Search for the Life of Meaning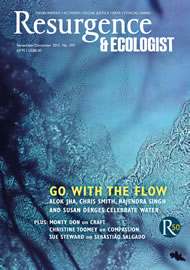 Cover: Cover image: River Taw (1998) by Susan Derges www.susanderges.com
Mick Brown hails a moving account of the stories of Buddhist nuns. The Saffron Road: A Journey with Buddha's Daughters by Christine Toomey. Portobello Books, 2015. ISBN: 9781846274923
Christine Toomey's search for illumination and understanding among Buddhist nuns begins – as searches for illumination and understanding often do – with tragedy.

A distinguished foreign correspondent for the Sunday Times – and, I should quickly add, a friend and former colleague of mine – in 2011 Toomey found herself in Dharamsala to write a story about the succession to the Dalai Lama. In the course of her researches she encountered nuns who had escaped from persecution in Tibet to join the Dalai Lama in India. Inspired by their courage, borne, as she puts it, by "a longing to achieve enlightenment, and a compassion and determination to help others achieve it too", Toomey resolved to further explore the lives and motivation of Buddhist nuns around the world. But what began as a journalistic endeavour soon took on a more profound personal significance with the death of her father, followed soon afterwards by the death of her mother, bringing Toomey's life to a standstill.

Death, as one nun tells her later on in her journey, is "the mirror in which the entire meaning of life is reflected" – for both the dying and those close to them. Toomey had spent years travelling to the forsaken corners of the world, covering the aftermath of wars, starvation and natural disaster. But, she writes, "after so much time bearing witness to the suffering of others, I realised I barely knew how to handle my own."

Toomey's quest takes her to three continents, encountering nuns from a bewildering range of backgrounds, for which the phrase 'all walks of life' seems woefully inadequate. In Nepal she finds a former anti-terrorist policewoman, and a princess who – echoing the life of the Buddha – has become a renunciate. There is an erstwhile Bollywood star and Miss India finalist, and an elderly Japanese nun who also happens to be a prize-winning novelist, once scandalised the country with a series of steamy novels based on her own sexual exploits, and is still a prolific author – albeit now of novels mostly on Buddhist themes.

The sense of reinvented lives is even more acute among those coming from Western, and sometimes conventionally Christian, backgrounds. There is the Tibetan Buddhist nun Tenzin Palmo, formerly Diane Perry, the daughter of an East End fishmonger, who spent 12 years alone meditating in a cave in the Himalayas before establishing a nunnery near Dharamsala; a former political activist and aide to the mayor of Washington DC who is now a nun at Plum Village, the monastic retreat in France founded by the Vietnamese monk Thich Nhat Hanh; Switzerland's first female commercial airline pilot, a thrice-married mother of two, who was once "addicted to passion" and is now a Tibetan Buddhist nun in Nepal. Another Tibetan Buddhist nun, in Scotland, was once the girlfriend of the footballer George Best.

Of course, the turning point was different for every individual: a loss, a trauma, a chance encounter with Buddhist teachings, the culmination of a long search for some deeper meaning. One might speculate why none of these women followed a religious vocation by becoming Christian nuns. "It just seemed the right fit for me, like Cinderella finding the right shoe," says Kaikyo, whom Toomey meets in a nunnery in Japan. In another life Kaikyo was a ballet dancer and choreographer in Venezuela.

To some of us, the idea of a life in what appears to be retreat from the world may seem like escapism, but the austerities and self-discipline of Buddhist monasticism, one Scottish nun tells Toomey, constitute "a very powerful symbol" in a culture where "wanting to get as much of everything as possible" leaves so many miserable and confused. "We act like yeast. It works very quietly in society, but it has an effect." And not all are secluded behind the walls of a nunnery. Many of the nuns in this book are examples of Engaged Buddhism, working in the community on feeding or education projects. Perhaps the most remarkable is Robina Courtin, an Australian who trained as a classical singer and at various times in her life embraced men, drugs, left-wing politics and radical lesbian feminism before becoming ordained as a Tibetan Buddhist nun and founding Liberation Prison Project. She now travels the world offering Buddhist teachings and counselling to prisoners.

Toomey is an astute and watchful observer and a sympathetic listener who writes movingly of her travels and encounters, judiciously sharing her own experiences and the growing self-understanding she derives from her immersion in Buddhist teachings and from the example of those she writes about.

In a Japanese Zen nunnery, she participates in a strict three-day regime known as sesshin – a series of five periods of zazen meditation each day, starting at 4.00am and breaking only for strictly choreographed meals. It is only on the last day of this gruelling regime that she achieves a fleeting breakthrough – a lesson in "being truly present. The realization is fleeting, but its effects stay with me." Having come to the nunnery pondering the question of whether such an institution – such a life – was an anachronism, she leaves with her perspective shifted: it is the rest of us who live our lives "playing out patterns determined by remembered pasts or projected futures, while the nuns of Nisodo are trained to be truly present in each and every moment".

Reading these stories, I was deeply impressed by the sacrifices required to follow a religious calling – almost an act of defiance in this modern age. But no one lingered in my mind longer than a Tibetan nun named Dhamchoe, whom Toomey meets in Dharamsala. One of a group of nuns who survived six years of incarceration and unspeakably brutal torture in the notorious Drapchi prison in Tibet (torture so brutal that five of her fellow inmates are believed to have committed suicide), Dhamchoe was finally released and was able to walk into India, and freedom. She now works as a waitress in a café in Dharamsala, having forsaken the security and support of life in a nunnery. She would feel ashamed to be in a nunnery, she tells Toomey, because she does not feel sufficient compassion for her torturers. "I think my mind is not pure enough to share the same food that is offered to the nuns."

Reflecting on her own years as a foreign correspondent, Toomey writes that it took more than two decades of covering the aftermath of war in hot spots around the world, "looking outward rather than inward", to appreciate that any true understanding of conflict can only come from facing up to our own inner battles. As the case of Dhamchoe poignantly illustrates, for some those battles never end.