Friends of Resurgence
January/February 2009
Welcome
Nature Crunch
Redesign, Rethink, Reimagine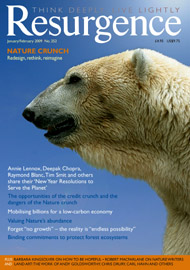 We begin the New Year with a look at the opportunities presented by the Credit Crunch and a feature on positive resolutions to serve the planet.
The monetary crisis is a chance to re-evaluate ? to redesign our monetary system and our economy in such a way as to restore the wellbeing of the human community as well as the Earth Community. In these critical times we need to put ecology before economy, and to rediscover the values of frugality, simplicity and restraint.
Read more: www.resurgence.org/magazine/
To read the January/Febraury issue in full, download from the website: www.resurgence.org/shop/backissues.html
Resolutions to serve the planet
We invited some friends of Resurgence to commit to one small action to help the environment in 2009.
Here were some of the ideas:
Become an activist
Grow more food
Join a credit union
Change your perception
Find out what Annie Lennox, Deepak Chopra, Raymond Blanc, Tim Smit and others have pledged for the New Year.
More: www.resurgence.org/magazine/
article2717-New-Year-Resolutions.html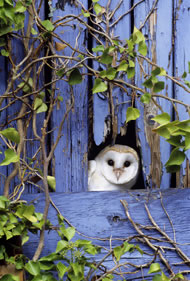 The key to living sustainably may be to rediscover the ?holy life? ? not as some separate practice reserved for monks and nuns, but as a foundation for all our lives.
Amidst all the evidence of possible catastrophe, David Cadman offers grounds for hope. As we become increasingly aware that our lives and our ways of being are interconnected, so we move closer towards a more wholesome way of life.
More: www.resurgence.org/magazine/
article2696-Divine-Abiding.html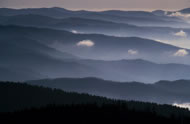 Terence Hay-Edie looks at the international trading scheme created to protect global forest carbon sinks and the response from Indigenous peoples.
The raising temperature of the earth calls for a rethink of collective decisions and responsibilities. "Nobody, Indigenous or non-Indigenous, is exempt from the challenge of responding to this shared and universal problem."
More: www.resurgence.org/magazine/
article2703-Costing-the-Earth.html
Our world is marked by careless litter. Andy Christian considers whether art made from such items helps to raise awareness of what we are doing to the Earth. He traces the history of Land Art from Robert Smithson?s work to that of Richard Long, Chris Drury and Andy Goldsworthy.
Land Marks focuses on artist Carl Hahn whose sculptures marry the use of discarded human-made materials with salvaged natural forms ? often an uneasy alliance.
More: www.resurgence.org/magazine/
article2704-Land-Marks.html
Join us for the first Resurgence Slow Sunday of 2009. On Sunday 25th January we invite you to make a New Year?s resolution to serve the planet. Make a personal pledge ? the more people who get involved, the greater the impact.
You can read resolutions from Resurgence contributors and staff and make your own pledge online.
More: www.resurgence.org/trust/
slow-sunday/wall-of-pledges.html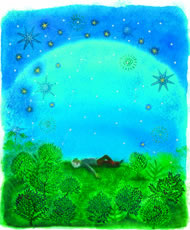 "No other star is as quick to tell me where to go. You are my guide, my magnet, my light. Oh Star of wonder Star of light Star with royal beauty Bright?"
An intriguing short story by Amanda Edwards, about an intrepid adventurer and her quest to follow the North Star.
More: www.resurgence.org/magazine/
article2713-Polaris.html
Also free to read online in the January/February Issue
Gardening: Brigit Norland reflects on the perfect garden. More
Living without Oil: Mark Boyle embarks on a journey to live more respectfully with Gaia. More
Way-finding: Lorna Howarth reviews The Wild Places by Robert McFarlane. More
This month's web exclusives
Free, web-only articles on forest gardening, local food networks, the creation of an energy-saving search engine, and a selection of enthralling book reviews. More
Don't miss the following articles
Liberation Ecology: Frances Moore Lapp? looks beyond the disempowering gospel of "no growth" to the ecological reality of ?endless possibilities?.
Darwin Revisioned: Brian Goodwin examines the need to transform Darwinian evolution into a liberating vision for the 21st Century.
How to be Hopeful: Barbara Kingslover?s empowering perspective on changing the world.
You can read the Jan/Feb issue in full for just £4:
www.resurgence.org/shop/backissues.html
Online e-subscriptions available:
Join the carbon-friendly future! Take out an e-subscribe to Resurgence for just £18.
www.resurgence.org/membership/e-subscriptions.html
Intelligence Squared Green Festival on Climate Change
24-25 January 2009, London
Awareness raising and debate on the scientific, regulatory, economic and social dimensions of climate change and to look at what should be done at government, corporate and individual levels to tackle the challenges we face.
More
---
Reclaim love
Saturday 14 February 2009, London
Free annual pavement party - Valentines Day, 2pm February 14th around the Eros statue in Piccadilly Circus, London.
More