Friends of Resurgence
March/April 2009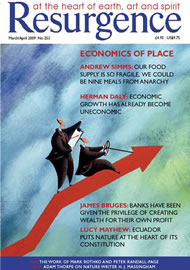 The March/April 2009 issue of Resurgence takes an in-depth look at the causes of the economic meltdown and offers workable, sustainable and equitable solutions.
Together with articles on forest schools, the transformative experience of eco-activism and the real meaning of beauty, this issue of Resurgence is a source of good news and inspiration.
Read more: www.resurgence.org/magazine/
To read the March/April issue in full, download from the website: www.resurgence.org/shop/backissues.html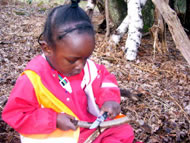 Teaching children in the natural environment creates an awareness and understanding of nature whilst developing all areas of learning.
Forest Schools are increasingly recognised as a valuable approach to education that enhance respect and understanding for the natural world and other children, develop co-operation, and support learning beyond the classroom.
More: www.resurgence.org/magazine/
article2742-Forest-Schools.html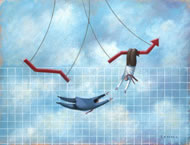 Andrew Simms examines the vulnerabilities of our monetary policy, fossil-fuel dependency and food production systems and warns that we could be nine meals from anarchy.
Why are we are still in denial?
More: www.resurgence.org/magazine/
article2746-Planet-Crunch.html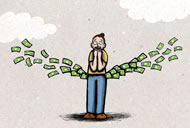 "Money is strange. To you and me it is real: we know what we have or have not got in the bank. But is soon becomes unreal."
James Bruges asks why banks be given the incredible privilege of creating wealth for their own profits, leading to unsustainable growth and exploitation and puts forward proposals for a more sustainable economy.
More: www.resurgence.org/magazine/
article2747-Pseudo-Money.html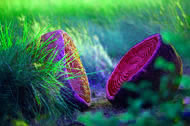 Peter Randall-Page took part in a unique collaboration of sculptors, musicians, ancient traditions and modern techniques, on the remote island of Lolui, in Lake Victoria, Uganda.
Read an account of his journey and view a short film Eginja Eriyimba about his experience.
More: www.resurgence.org/magazine/
article2761-Rock-Music-Rock-Art.html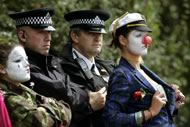 Adam Weymouth, an activist and campaigner looks at the role of direct action and takes inspiration from those who challenge the status quo.
"The call to this adventure is a call that must not go unheeded and now extends beyond even morality and ethics, to a place where the very future of our planet is in question."
More: www.resurgence.org/trust/
article2757-Where-Spirit-Lies.html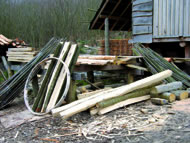 The Woodland Year by Ben Law has inspired a woodland renaissance. Hugh Fearnley-Whittingstall takes a journey through Ben Law's new book The Woodland Year and explains how he too became beguiled by woodcraft.
More: www.resurgence.org/magazine/
article2771-Wood-Matters.html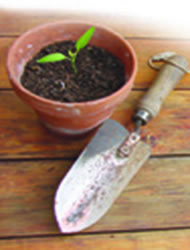 For our Spring Slow Sunday on 29th March 2009 we encourage you to enjoy the seasonal pleasure of planting – be it a seed, a seedling or a sapling - in symbolic recognition that small actions really can lead to big change. The act of sowing a seed is an act of hope for the future, of trust in the generosity of the Earth and of solidarity with all beings.
More: www.resurgence.org/magazine/
article2769-Spring-Into-Action.html
Also free to read online in the March/April Issue
Solar Subsidies: carbon offsetting that makes a difference. More
The Original Sin: mountaintop removal in the Appalachian region, USA. More
Gentle Action: Bringing Creative Change to a Turbulent World – David Peat on the clarity that comes from moments of silence. More
This month's web exclusives
Free, web-only articles including: Housing for Happiness, Rocky Mountain Music, Writing the Wind, Hedgerow Herbal, and more. More
In this issue of Resurgence we publish an extract from Herman Daly's report 'Towards A Steady-State Economy' written for the Sustainable Development Commission. Read Herman Daly's full report online.
Don't miss the following articles
Restorative Justice: Polly Higgins on the need for a UN Declaration of Planetary Rights.
Nuclear Nightmare: Mark Dowie examines the truth behind the claims and counter-claims of the nuclear industry.
Carbon Budget: Shaun Chamberlin looks at the balance between ensuring essential entitlements to energy whilst guaranteeing that the UK meets emissions reductions targets.
You can read the March/April issue in full for just £4:
www.resurgence.org/shop/backissues.html
Online e-subscriptions available:
Join the carbon-friendly future! Take out an e-subscribe to Resurgence for just £18.
www.resurgence.org/membership/e-subscriptions.html
Resurgence Walk with Satish Kumar
4-7 June
Walk the Mortimer Trail with Satish Kumar.
For more information email Elaine.
---
Resurgence Readers' Weekend and Camp
23-26 July
More about the programme. Book early as previous events have been full.
More
---