Friends of Resurgence
May/June 2009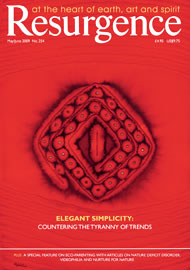 In this issue of Resurgence Satish Kumar asks "Can we not design a lifestyle of elegant simplicity which is just, fair and sustainable?"
The May/June issue also includes a special feature on Conscious Parenting – the need to redress the impact of nature deprivation and remote-controlled living; a report on the fashion industry, and an exploration of willow art.
Read more: www.resurgence.org/magazine/
Satish invites you to support the work of The Resurgence Trust. At a time of economic downturn with the threat of global warming and the challenge of global inequality, the message of Resurgence is more relevant than ever. Please read Satish's letter below.
To read the May/June issue in full, download from the website: www.resurgence.org/shop/backissues.html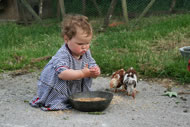 How can we expect future generations to care for the Earth when they have had so little experience of nature?
If we want to redress ecological imbalances, we must take a more enlightened look at parental responsibilities.
More: www.resurgence.org/magazine/
article2796-Nurture-for-Nature.html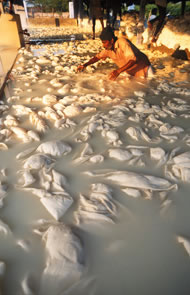 What is the true cost of our love of designer labels? Charty Durrant takes a critical look at the social, ecological and economic impact of the fashion industry.
More: www.resurgence.org/magazine/
article2799-The-Tyranny-of-Trends.html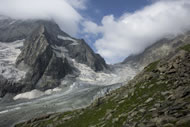 The Kashmir Valley now faces a threat even greater than human conflict.
Himalayan glaciers which feed the mighty Asian rivers including the Indus, the Brahmaputra and the Ganges are melting at a faster rate than anywhere else in the world.
More: www.resurgence.org/magazine/
article2809-Water-Stress.html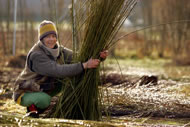 Sarah Pank's innovative willow work honours a traditional craft and is intrinsically connected to the Earth.
"Her work is a search for order and poetry, and in both she finds a clarity of purpose and clarity of image."
More: www.resurgence.org/magazine/
article2812-The-Willow-River.html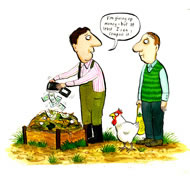 Is it possible to live without oil for a year? Mark Boyle is finding out.
Six months on, as he strives to understand the root causes of the environmental destruction we inflict, he has come to the realisation that what he is doing is not enough.
More: www.resurgence.org/trust/
article2818-Living-My-Truth.html
Living without Fossil Fuels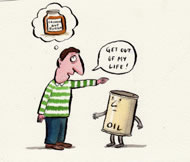 On the next Slow Sunday, 31 May 2009, we invite you to spend the whole day without using fossil fuels of any kind! So, turn off the TV, eat local food, walk or cycle to see your friends and relax in candlelight at the end of a replenishing day!
More: www.resurgence.org/trust/
slow-sunday/fossil-fuel-free-day.html
Also free to read online in the May/June Issue
Little Green Fingers : the transformation of school food culture. More
Poisoning the Planet: solidarity with small farmers refusing to co-operate with the agri-business paradigm. More
Like Moths to the Flame: reminiscences of Kathleen Raine. More
Opening the Ground to Starlight: Gardening at the Dragon's Gate. More
This month's web exclusives
Free, web-only articles including:
The Sanctity of Land
Dignity for All
The Patient Gardener
The Family of Things
Plus a selection of intriguing book reviews
More
Don't miss the following articles
Nature-deficit Disorder: why we need to weave experience of nature into our children's education.
Bourgeois Maths: questioning the supremacy of the mathematics of the European tribe.
Poetry and Photography: a collaboration between Peter Abbs and John Pack to portray the inner spirit of place.
You can read the May/June issue in full for just £4:
www.resurgence.org/shop/backissues.html
Online e-subscriptions available:
Join the carbon-friendly future! Take out an e-subscribe to Resurgence for just £18.
www.resurgence.org/membership/e-subscriptions.html
A letter from Satish Kumar
Dear Friends,
At this time of economic downturn, threat of global warming and challenge of global inequality, the message of Resurgence is more relevant than ever. Resurgence is one of the few voices pointing towards a sustainable and steady state economy which is environmentally sustainable, socially just, spiritually fulfilling and profoundly creative.
However, Resurgence is still a best-kept secret! So, the challenge for us in 2009 is to reach out and spread the message and I am writing to you to ask for your support, help and participation in this venture. You may already read and enjoy Resurgence as a member of The Resurgence Trust, and as a reader of Resurgence you would be our best ambassador to spread the word. If every one of our existing members, subscribers and readers was able to find just one more member or subscriber we could double the circulation of Resurgence within a year.
You can help Resurgence in the following ways:
1. Take out a subscription if you haven't done so already!
2. Give a gift subscription to Resurgence magazine. A gift subscription lasts for a whole year and every time the recipient of your gift reads Resurgence they will thank you! We will give you a free DVD 'Earth Pilgrim: A Spiritual Journey into the Landscape of Dartmoor with Satish Kumar', when you take out a new UK print subscription as a gift. To arrange a gift subscription, please contact our Subscriptions team, telephone: 01208 841824, email: members@resurgence.org or subscribe on-line at: www.resurgence.org/membership/gift-membership.html
3. Make a donation. You might consider simply making a gift to Resurgence. You can make a donation online at: www.resurgence.org/trust/donation.html
To find out more about supporting the work of Resurgence visit: www.resurgence.org/trust/how-you-can-help.html
I do hope you can help support Resurgence. We are in this venture together. Resurgence is your magazine and you are invited to participate actively in its future development and that of The Resurgence Trust. There is an African saying, "If you want to go fast go alone, if you want to go further go together". So, let's go together and use the current economic and environmental crisis as an opportunity to build a better future.
With all good wishes,
Satish Kumar
Editor, Resurgence magazine
Economic and Environmental Recovery
30 May
Creating a better world to recover from the credit crunch and the nature crunch. With Fritjof Capra, Ann Pettifor and Satish Kumar,
www.resurgence.org/trust/resurgence-events.html
---
Resurgence Readers' Weekend and Camp
23-26 July
More about the programme.
www.resurgence.org/trust/resurgence-events.html
---