Friends of Resurgence
July/August 2009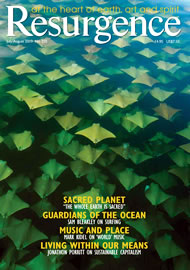 The July/August issue includes a special feature on Sacred Planet. We can relate to planet Earth either as tourists and look at the earth as a source of goods and services for our use, or we can act as Earth Pilgrims and treat the planet with reverence and gratitude.
This question is explored from many angles in the July/August issue, which is eclectic, deeply philosophical and inspiring. More. . .
Read more: www.resurgence.org/magazine/
To read the July/August issue in full, download from the website: www.resurgence.org/shop/backissues.html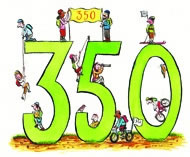 Bill McKibben explains why 350 is the most important number in the world and asks for your help to combat climate change and increase awareness.
More: www.resurgence.org/magazine/
article2838-350org.html

There are limits to the exploitation of the planet and the Sacred Earth ultimately has the last call. It's time to revive the wisdom and ceremonies of our sacred places and rediscover the role of Guardians to our Sacred sites.
More: www.resurgence.org/magazine/
article2844-Potent-Places.html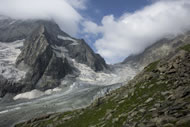 Has the dislocation of 'world' music from its context in community and place led to multicultural mediocrity?
Mark Kidel, co-founder of Womad takes a critical look at the impact of 'consuming' music out of context.
More: www.resurgence.org/magazine/

The core component of the Transition movement is to develop a bottom-up, participatory process in order to build resilient communities in response to climate change and peak oil.
More: www.resurgence.org/magazine/
article2852-Resilience.html
Also free to read online from the July/August Issue
The Plight of the Bumblebee: life as we know it could be wiped out without bees. More
Creation Story: return to the sacred places where the Spirit Keepers live. More
Journey into Silence: retreat in the Sinai Desert. More
Adapt and Survive: creating policy to adapt to 'Hot Earth'. More
This month's web exclusives
Free, web-only articles including:
Elephant Ecosytems: elephant habitat is reduced to fragments.
Living Legacies: embracing local ecological knowledge in Ethiopia.
Closer to the Sky: integrating human beings with their non-human parents.
Cultural Crossroads: sacred sites as acupuncture points of the planet.
Plus a selection of intriguing book reviews.
More
Don't miss the following articles
Guardians of the Ocean: a passion for riding the waves is the perfect way to nurture an ecological consciousness.
Laws of Origin: an interview with Macuna Indians from the Columbian Amazon.
Farm Freedom: genetically modified plants have fallen short of scientists' predictions.
You can read the July/August issue in full for just £4:
www.resurgence.org/shop/backissues.html
Online e-subscriptions available:
Join the carbon-friendly future! Take out an e-subscribe to Resurgence for just £18.
www.resurgence.org/membership/e-subscriptions.html
Resurgence Readers' Weekend and Camp
23-26 July
More about the programme.
www.resurgence.org/trust/resurgence-events.html
---
Positive Energy2, Findhorn
3-9 October 09
Building Bioregional Resilience.
www.findhorn.org/positiveenergy2
---