Friends of Resurgence
September/October 2009
Welcome
Exploring Consciousness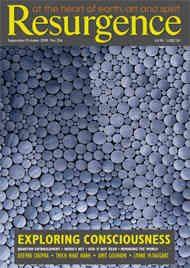 Read our special feature on Quantum Consciousness in Resurgence September/October 2009. This issue brings together leading thinkers and writers to consider consciousness as a source of spiritual and scientific wisdom.
Rupert Sheldrake explores animal consciousness, Deepak Chopra untangles the complexities of quantum physics, and Satish Kumar invites you to celebrate consciousness as a state of harmony, where we are all connected. More. . .
Read more: www.resurgence.org/magazine/
To read the September/October issue in full, download from the website: www.resurgence.org/shop/backissues.html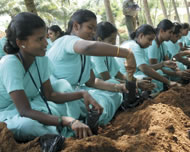 In response to deforestation, this project aims to restore the original tree coverage in Tamil Nadu through mass tree planting.
A project that educates local people about the benefits of trees, provides free saplings and supports the development of sustainable local economies.
More: www.resurgence.org/magazine/
article2886-Project-Greenhands.html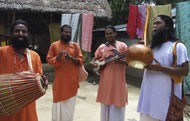 The Bauls of Bengal connect music, spirituality and nature. The ecstatic path of music is a way of life, which is central to their community and traditions. You can also listen to a sample of Baul music online.
More: www.resurgence.org/magazine/
article2900-Waves-of-Joy.html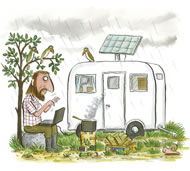 After seven months living without money and fossil fuels Mark Boyle considers what he misses from his old life.
"I miss out on bank statements, utility bills and the inevitable traffic jam on the way home from my old stressful job."
More: www.resurgence.org/magazine/
article2906-Going-Local.html
Also free to read online from the Sept/Oct Issue
Elephant Ecosystems: a habitat reduced to isolated fragments. More
God is Not Dead: the evolution of consciousness. More
Remaking the World: scientific certainties rewritten. More
People of the Caribou: respecting the old ways to preserve the future. More
Nature as Teacher: education for a low carbon world. More
This month's web exclusives
Free, web-only articles including:
Migrating Stones: Alyson Hallett
Colour and Hope: George Monbiot & Paul Kingsnorth
Organic Money: James Bruges
Plus more book reviews
More
Don't miss the following articles
Indra's Net: Thich Nhat Hahn
Shamans, Yogi's & Alchemists: Ralph Metzner
Wild Food: Jane Le Besque
Business for a better world: Chris Nichols & Chris Seeley
You can read the September/October issue in full for just £4:
www.resurgence.org/shop/backissues.html
Online e-subscriptions available:
Join the carbon-friendly future! Take out an e-subscribe to Resurgence for just £18.
www.resurgence.org/subscribe/e-subscriptions.html
Supper with Satish
at Riverford's Field Kitchen, Totnes, 20 Oct. Plus, Earth Pilgrim book launch and signing. More. . .
---
Celebrating Thomas Berry
20 Sept
Music, dancing & reflections. More. . .