Friends of Resurgence
November/December 2009
Welcome
Resilience and Climate Change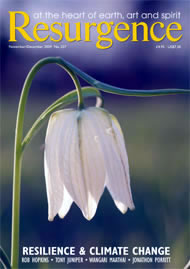 The November/December issue presents a 'Green Agenda for the Copenhagen Summit' where key writers and thinkers, including Rob Hopkins, Crispin Tickell, and Wangari Maathai discuss the root causes of, and solutions to, the challenge of climate change.
Far from being doom-laden, this special issue sees the crisis of climate change as an opportunity to rethink our economic, social and political systems. More. . .
Read more: www.resurgence.org/magazine/
To read the November/December issue in full, download from the website: www.resurgence.org/shop/backissues.html
Oxfam report that the most savage impact of climate change on humanity is likely to be increased hunger. In this article, Jonathon Porrit demonstrates why three fundamental principles – resilience, resolarisation and relocalisation – should underpin food security in the face of climate change.
More: www.resurgence.org/magazine/
article2948-The-Three-Rs.html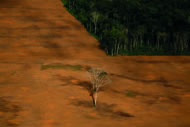 "Six million hectares of diverse tropical forests are cleared every year."
Tony Juniper outlines a new proposal to protect the rainforests – one that would mobilise funds immediately and provide countries with the financial breathing space they need to embark on lower-carbon and more sustainable development paths.
More: www.resurgence.org/magazine/

Mukti Mitchell explores a new way of looking at farming that recognises good techniques being practiced on any type of farm and gives credit where it's due.
The emerging approach of 'rich-soil' farming reveals that correctly managed agriculture can help us to turn back the carbon clock.
More: www.resurgence.org/magazine/
article2955-Climate-friendly-Farming.html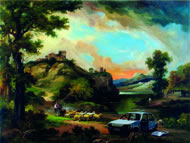 Subversive, witty, cultish, street-wise, satirical, activist: these are words that seek to define Bansky, but has his more recent work lost its radical edge?
Andy Christian contemplates the recent Bansky versus Bristol Museum exhibition.
More: www.resurgence.org/magazine/
article2961.html
The native 'Scots pine' found in Northern Europe, Scandinavia, Asia and the Caucasus is a resilient species that can adapt to almost any circumstances.
Reintroducing them into our woodlands is an act of foresight that will enhance the environment and help mitigate climate change.
More: www.resurgence.org/magazine/
article2964-Lonesome-Pines.html
Also free to read online from the Nov/Dec Issue
Trees are the Answer: an interview with Wangari Maathai. More
Keeping Oil in the Ground: a rainforest protection initiative. More
Sensible Solutions: the practice of natural frugality. More
What on Earth Evolved? 100 species that changed the world. More
This month's web exclusives
Free, web-only articles including:
A Better Life for All: Sue Buckingham
Moral Analysis: Jack Santa Barbara
The Illogical Religion of Economics: Jane MacNamee
Books in Brief: Jo Oland
More
Don't miss the following articles
Resilience Thinking: Rob Hopkins
Climate Justice: Vandana Shiva
A Learning Society: Kate Davies
Art for Earth's Sake: Satish Kumar
To read these articles and more buy the November/December 2009 issue for just £4:
www.resurgence.org/shop/backissues.html
Online e-membership available:
Join the carbon-friendly future! Take out an e-membership to Resurgence for just £18.
www.resurgence.org/subscribe/e-membership.html
Wholeness in Three Panels
23 Nov 2009, London
Organized by Earthlinks. Three panels of three speakers on the themes of science, experience, wholeness and their relation to language. More. . .
---
Inspired Action Conference
3-9 April 2010
Changing the world from the inside out. More. . .