Friends of Resurgence
January/February 2010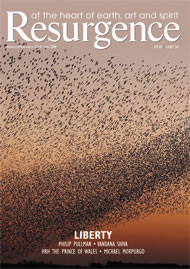 In the January/February 2010 issue we present a special feature on Liberty, including HRH The Prince of Wales' Keynote speech 'Facing the Future' given at The Richard Dimbleby Lecture 2009.
Respected international authors Philip Pullman, Vandana Shiva and Michael Morpurgo share their personal interpretation of freedom and liberty. Plus, Stephan Harding espouses the beautiful work of ecological artist Deirdre Hyde and Riverford Organic founder Guy Watson kicks-off his brand new food column in Resurgence.
All in all, a great start to the New Year!
Read more: www.resurgence.org/magazine/
To read the January/February issue in full, download from the website: www.resurgence.org/shop/resurgenceissues.html
Why our leaders are failing us, and why, collectively, we now need a far broader and deeper global movement for change.

More: www.resurgence.org/magazine/
article2987.html

It is time to ask what constitutes appropriate policing of peaceful protest. The campaigners at Plane Stupid share their inside story on police infiltration and surveillance tactics.
More: www.resurgence.org/magazine/
article2993.html
If we can bring together growing food and cooking, the results will be radical. Guy Watson on the much-needed transformation of food, farming and culture.
More: www.resurgence.org/magazine/
article3003.html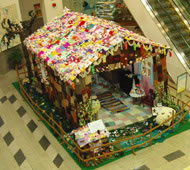 There's a revolution going on behind the scenes in the world of knitting, with a group of artists raising this once traditional and undervalued skill to a new art form.
More: www.resurgence.org/magazine/
article2997-Extreme-Knitting.html
Guardians of the Countryside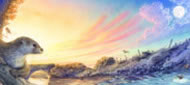 Otter Moon – an enchanting children's book that bestows a deep love of the natural world.
More: www.resurgence.org/magazine/
article3020-Guardians-of-the-Countryside.html
Also free to read online from the Jan/Feb Issue
Care Farming: a new perspective on social health care. More
Fragility and Hope: Tarka the Otter lives on. More
In Service of the Earth: ecological art. More
Moral Analysis: Jack Santa Barbara reviews Right Relationship. More
This month's web exclusives
Free, web-only articles including:
Reclaim Love: St. Valentine's day without consumerism
Holy Water: threats to India's watercourses
Two sides to the Story: to email or write?
Hunger for meaning: leadership and social responsibility
Liberty in the Network Age: the freedom to code
A Modern Mystic: Sadhguru, an Indian spiritual teacher
More
Don't miss the following articles
Facing the Future: HRH the Prince of Wales
Strides Towards Sustainability: Helen Yaffe
Freedom is a Gift: Michael Edwards
No Trumpets Needed: Michael Morpurgo
To read these articles and more buy the January/February 2010 issue for just £4:
www.resurgence.org/shop/backissues.html
Online e-membership available:
Join the carbon-friendly future! Take out an e-membership to Resurgence for just £18.
www.resurgence.org/subscribe/e-membership.html
A Fool's Dream
2-9 Jan 2010, Totnes
An exhibition of paintings by Melodie Mayne. More. . .
---
Earth Pilgrims
7 Feb 2010
Documentary film and talk by Directory Echan Deravy. Sydney, Australia. More. . .
---
Reclaim Love
St. Valentines Day, Piccadilly Circus More. . .
---
Inspired Action Conference
3-9 April 2010
Changing the world from the inside out. More. . .