Give a gift of Resurgence – a unique, ethical and inspirational present that will be enjoyed for a whole year! Free Fireside Chats CD with every new membership. Call our Membership Department, tel: 01208 841824 or use the link below.

Give a Gift Membership
Resurgence News
Fundraiser Appointed
We welcome Hannah Perkins to the Resurgence team.
Tagore Festival
Visit the Tagore website for updates and bookings. www.tagorefestival.com Festival programme now available online here.
Regular Blogs
Nature, conservation, science and film: Read Blogs
What on Earth Evolved?
Test your knowledge of the natural world and raise money for Resurgence at the same time. More
Phone Co-op
Thinking of changing your phone or broadband supplier? Go ethical. More
In Brief


What on Earth Wall Book
£5 from each sale goes to Resurgence
More
---
The Impossible Hamster Club
A short film that says it all. . .
More
---
Art in Action 2011
400 demonstrating artists, designer makers, teachers, musicians and performers
More
---
A Global Call for Sharing and Justice
A hot topic at Our Future Planet
More
---
Course
Schumacher College
Confluence of Cultures: Understanding the Past, Enriching the Future
9-13 May 2011
More
---
Course
Schumacher College
Earth Pilgrim: Exploring the landscape of spirit
4-9 June 2011
More
---
Course
Yarner Trust
Home Cheese Making
24 July 2011
More
Friends of Resurgence
March/April 2011
In the 45th anniversary year of Resurgence, we highlight the importance of core values that serve people and the planet. Our March/April issue celebrates the champions of intrinsic values who have contributed to Resurgence over the years, including Caroline Lucas, Vandana Shiva, Annie Lennox and Václav Havel. Feature articles include HRH The Prince of Wales on Islam and the Environment, and Rowan Williams on Moral Housekeeping.
Read more: www.resurgence.org/magazine/
To read the March/April issue in full, download from the website: www.resurgence.org/shop/issues.html

---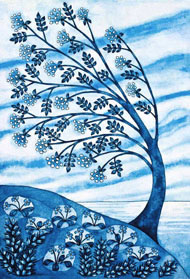 Our Core Values
Respect for the environment and care for the Earth are values at the core of all religions and wisdom traditions. Satish Kumar looks at the values that underpin Resurgence and why the restoration of wisdom, respect and reverence for life hold the key to solving the current environmental crisis.
More: www.resurgence.org/magazine/
article3317-our-core-values.html


---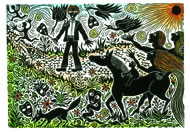 Transcending Self-interest
George Monbiot highlights the critical difference between intrinsic and extrinsic values and explains why we need to live by our intrinsic values if both people and the Earth are to flourish. Humanity will be far better served by the values of hospitality, humility and harmony than by the values of success, speed and greedy self-interest.
More: www.resurgence.org/magazine/
article3328-transcending-self-interest.html



---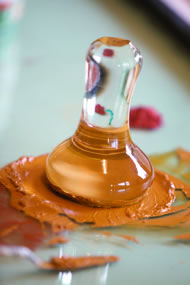 Dirty Art
From soil collected on the heights of Devon's Dartmoor to a verge-side Californian clay found on Highway 101 in the USA, two earth artists — Leah Fanning Mebane and Cea Blyth — explain the benefits of creating colour from natural pigments. "When I learned it was possible to make my own paints from clay and oil, my passion was ignited."
More: www.resurgence.org/magazine/
article3335.html

---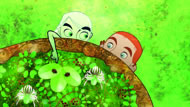 Wild Nature
The portrayal of nature in movies evokes a passion and respect for vivid wild landscapes. Resurgence film editor, Caspar Walsh, highlights a very personal selection of contemporary wilderness films that have opened his heart and blown him away. Discover films where nature is the true star. . .
More: www.resurgence.org/magazine/
article3340.html

---
Also free to read online from the March/April Issue
Pilgrim or Tourist: Peter Owen Jones explores the real journey we must all make. More
Green the World - GreenSpirit: Path to a New Consciousness. More
The Pond: Witnessing the miracle of a normally hidden watery world. More
This month's web exclusives
Unsustainable Subsidies: Deepak Rughani
The Riches of Burma: Sophie Poklewski Koziell
The Resurgence Garden: James Towillis
Back to Front Gardening: David Midgely & Roxanna Summers
Butterfly Wings and Why: Horatio Morpurgo reviews Butterflies: Messages from Psyche
More

Don't miss the following articles only in print
Islam and the Environment: HRH The Prince of Wales
Moral Housekeeping: Rowan Williams
A Call to Humility: Václav Havel
The Art of Liberation: Harry Eyres
To read these articles and more buy the March/April 2011 issue for just £4 (pdf format):
www.resurgence.org/shop/issues.html
Online e-membership available:
Join the carbon-friendly future! Take out an e-membership to Resurgence for just £18.
www.resurgence.org/membership/e-membership.html

Our Future Planet (OFP)
is the only online community that enables you to share ideas, design your future, and create change in the real world. The OFP website is designed to inform, inspire and encourage people to create positive visions for the future and develop the systems needed to get us there.

OFP is a community for planetary citizens, where you can make connections with people who have mutual interests and passions. The website empowers individuals to cooperate to bring ideas to life through creating actions, projects and petitions to facilitate change.

Fin
d out more about OFP unique work, focusing on solutions and a positive vision for the future: www.ourfutureplanet.org
Tagore Festival
Dartington, Devon
1-7 May, 2011
A festival of arts, craft and culture to celebrate the life of Rabindranath Tagore.
More. . .
---
Resurgence Summer Camp
near Worcester
28 – 31 July
A weekend of talks, music, craft and inspiration. More information and online booking. . .
More. . .
---
Midsummer Camp
Norfolk
18 – 25 June
Eight days, living in community. Five rhythms dance, live music, improvisation and comedy workshops, wild swimming in a beautiful river, and children's activities.
More. . .
Resurgence magazine: http://www.resurgence.org Tel: +44 (0) 1237 441293
The Resurgence Trust is a Charity registered in England and Wales. Charity Registration No. 1120414 Reg. Office. Ford House, Hartland, Bideford, Devon. EX39 6EE.
You are receiving this email from Resurgence because you subscribed on our website. To unsubscribe or to update your profile, click on the Safe Unsubscribe or Update/Edit Profile links below.
If you have received this email as a referral from a friend or otherwise wish to subscribe to this list please subscribe.