Your friends will receive 6 magazines a year, plus a free pack of six beautiful cards.
Give a Gift Membership
Resurgence News
Missed the Resurgence Festival of Wellbeing?
Watch it online here
Resurgence Nature Writing Competition 2013
Details and entry form here
New Resurgence catalogue out now
Visit the Resurgence shop for gift ideas, green living books, cards and diaries. Shop
Resurgence App
Resurgence now available on iPad and iPhone, with FREE access for existing print members. More
Send an e-Card
Send free Resurgence e-cards, with a personal greeting e-Cards
Regular Blogs
Nature, conservation and craft: Read Blogs
New film about Resurgence
Watch it online here
Phone Co-op
Thinking of changing your phone or broadband supplier? Go ethical. More
Ecologist News
Grinding Nemo – the exploitation of oceans and workers by the Thai prawn industry.

Check the website
www.theecologist.org for new daily content covering a wide spectrum of environmental issues, plus political analysis by environmental journalist Bibi van der Zee.
In Brief
Artists Project Earth
Rhythms Del Mundo Africa – go crazy
More
---
Course
Schumacher College
Mind in Nature
21 Jan – 8 Feb 2013
Rupert Sheldrake, Nora Bateson, David Rothenberg, Stephan Harding and Philip Franses
More
Friends of Resurgence
November/December 2012
Following the merger with the Ecologist in June, we introduce the second issue of Resurgence & Ecologist, with a focus on Nature and ask "Can you put a price on it?"
Satish reminds us that everything moves in cycles; cycles of time, cycles of life and, of course, a cycle of seasons. Things begin, things grow, things decay and then begin again. This simple reality must now be placed at the centre of our thinking. Rather than a growth economy, we should now think in terms of a cyclical economy.
In this issue, we challenge the obsession with unlimited, industrial growth and ask, "How long can we pursue the goal of linear growth in GDP at the expense of the environment?"
Key articles look at the interface between economics and ecology and explore how we might create a new economy that is durable, stable and sustainable.
Here's a selection of articles and new features from the November/December issue, with links to articles that you can read online. Read more: www.resurgence.org/magazine/
To read the November/December issue in full, download from the website: www.resurgence.org/shop/issues.html

---
Pricing Nature
Can you put a price on Nature? Paul Evans takes issue with the market approach to environmental issues and explains why he thinks this approach is stupid, irresponsible nonsense.
More: www.resurgence.org/magazine/
article3774-pricing-nature.html

---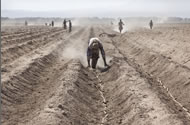 The Great Africa Land Grab
Oxfam's Phil Bloomer reports on the scandal of the mainly secretive land-grabbing in Africa, estimated to be around 203 million hectares. He calls for urgent action from governments, business and civil society to protect poor and vulnerable people from the theft of their lands.
More: www.resurgence.org/magazine/
article3775.html

---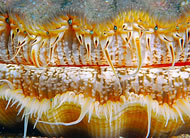 What Lies Beneath?
Safeguarding marine wildlife has always been hugely controversial, yet in the UK about half of our biological diversity lies in the seas. Harry Barton, Chief Executive of Devon wildlife Trust asks "Why have we done so little to protect the wildlife of the seas?"
More: www.resurgence.org/magazine/
article3779.html
---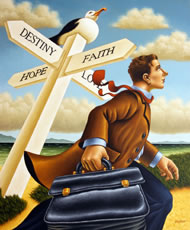 Rebuilding Faith
When will we have had enough? David Jackman takes a look at the lack of ethics in the banking industry and proposes three concrete ideas for changing the entire environment both inside and outside of banks. Time for a radical rethink.
More: www.resurgence.org/magazine/
article3785.html

---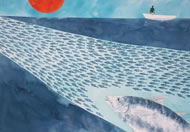 Accumulated Depth
Jay Ramsay reviews Hedge Fund: And Other Living Margins, a rich and diverse collection of poems and prose by eco-poet Helen Moore. A regular performer at Resurgence events, Helen's poetry reflects a deep connection with the natural world.
Also free to read online from the November/December Issue
The Economy of Nature • Satish Kumar More
Waste Not, Want Not • Hylton Murray-Philipson More
Peoples' Sustainability Manifesto • Lorna Howarth More
Living Landscapes • Stephen Moss More
The Great Conversation • Peter Reason More
A selection of this month's web exclusives
Nature as Inspiration: Lara Lloyd introduces four South Devon-based artists whose work embodies their passion for the natural world.
The Rise of Real Bread : Andrea Mynard rediscovers the joy of real bread, baked using ancient grains.
The Secrets of Cooperative Success: Peter Couchman explores the role and relevance of small, rural cooperatives.
Quantum Reality : Lothar Schäfer explains that quantum physics is the place where ancient philosophy meets new science.
More

Don't miss the following articles only in print
Forest Schools: Annie Davy
My Green Life Chris Packham
Beyond Capitalism: Jerry Mander
Winning Over the Public: Craig Bennett
To read these articles and more buy the November/December 2012 issue for just £4 (pdf format):
www.resurgence.org/shop/issues.html
Online e-membership available:
Join the carbon-friendly future! Take out an e-membership to Resurgence for just £18.
www.resurgence.org/membership/e-membership.html

Our Future Planet (OFP)
is the only online community that enables you to share ideas, design your future, and create change in the real world. The OFP website is designed to inform, inspire and encourage people to create positive visions for the future and develop the systems needed to get us there.


Find out more about OFP unique work, focusing on solutions and a positive vision for the future: www.ourfutureplanet.org
---
Green Books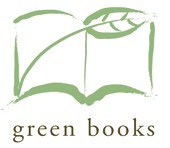 Green Books publishes books on environmental, cultural and spiritual issues. You can also sign up for their newsletter for articles, book extracts and offers. www.greenbooks.co.uk
Green Books publishes some lovely books that would make great gifts for Christmas. Resurgence readers can get a generous 40% off, with free p&p in the UK, by ordering from www.greenbooks.co.uk. Enter RESURGENCE in the promotion box and click ADD to activate your discount.
---
Schumacher College

Schumacher College has been at the forefront of radical new thinking and education for 20 years. Connect with thousands of like-minded people and learn alongside the leading thinkers and activists of our day by joining the College Network. www.schumachercollege.org.uk
---
Good Energy
We've teamed up with Good Energy, the UK's only 100% renewable electricity supplier. If you switch to Good Energy, and quote Resurgence, they'll give you £25 off your first bill. Good Energy will also give £25 to Resurgence. Tel: 0845 4561640 or join online: www.goodenergy.co.uk
Seed Freedom
9 February 2013
Vandana Shiva in Conversation with Satish Kumar The Nehru Centre, 8 South Audley Street, W1K 1HF More information and tickets:
http://vandanashivaandsatishkumar.eventbrite.com
---
Resurgence magazine: http://www.resurgence.org Tel: +44 (0) 1237 441293
The Resurgence Trust is a Charity registered in England and Wales. Charity Registration No. 1120414 Reg. Office. Ford House, Hartland, Bideford, Devon. EX39 6EE.
You are receiving this email from Resurgence & Ecologist because you subscribed on our website. To unsubscribe or to update your profile, click on the Safe Unsubscribe or Update/Edit Profile links below.
If you have received this email as a referral from a friend or otherwise wish to subscribe to this list please subscribe.