Good food and better farming
Issue
205

• March/April 2001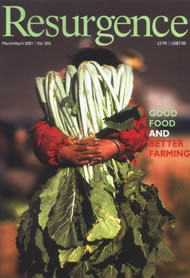 Buy a copy of this issue
Become a member and receive 6 issues a year
Contents
Key
Free for all to view
Free for members to view
Not available
Welcome
Food
Chemical agriculture costs the Earth.
Big corporations have debased food into commodities and balance-sheets.
In Indian culture seeds are sacred. Multinational corporations are stealing seeds from the poor.
Plant-based diets hold the key to human health and the health of the planet.
As organic food is hijacked by corporate power, being "organic" is not enough.
Let all schools teach children how to cook and enjoy good food.
Philosophy
There is a growing movement which celebrates the local, the small, the wild and the free.
Economics
Hope, hard work and adaptability are the greatest assets.
We need calculator-free zones.
A young man, aged eight, finds out about financial systems.
Memoirs
Story of self realisation.
The Arts
Robin Baring is an artist of mystical vision.
The paintings of Alan Bray reveal the drama of struggles between stone and water, trees and granite.
James Ursell built a giant wicker bowl of coppiced branches.
Frontline
Regulars
Reviews
Review of Bringing the Food Economy Home
Review of Lindsay Clarke's Traditional Celtic Stories
Review of Life is a Miracle
Review of Wandering God
Review of Localization: a Global Manifesto
Review of You Can't Eat GNP
Review of The World is Not for Sale
Review of The Nothing That Is
Review of High Tech Heretic and Let Them Eat Data