There is no wealth but life
Issue 240 • January/February 2007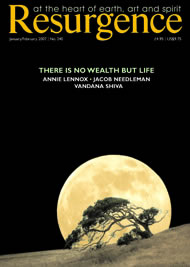 Buy a copy of this issue
Become a member and receive 6 issues a year
Contents
Key
Free for all to view
Free for members to view
Not available
Welcome
Green Sunday: responding to the climate change crisis by keeping one day a week for the Earth.
40th Anniversary
Celebrating forty years of Resurgence.
If we view the world as an interdependent global village, we avoid taking action at our own peril.
Frontline
An Oxford college has become the first in Britain to go carbon neutral.
Stuart Downward is helping urban communities to reclaim their lost rivers.
Britain's first fully recycled kitchen has arrived.
ART FROM THE RUBBLE • Linda Kaun
The traditional craft of batik is helping people in Yogyakarta, Indonesia to recover from a tragic earthquake.
Alka Zadgaonkar has discovered a radical solution to the problem of waste plastic in India.
Sociópolis is a radical new eco-development on the Spanish coast.
A new solar-powered village at Tamera, in Portugal, aims to inspire globally.
The St Francis of Assisi Academy in Liverpool is Britain's first eco-school.
Keynotes
Some new concepts and initiatives in the field of finance.
Despite 8% economic growth India has a third of the world's malnourished children.
It's time to create, invest and spend our money in ways that truly reflect our values.
If we do not wish to support economic growth that comes at the cost of biodiversity and peace, we must concern ourselves with the fundamentally violent impact of its speed.
Realise that life is the best thing ever, and that you have no business taking it for granted.
Searching for a quality of inner experience that is as intense as our concerns about money.
Undercurrents
A solution for climate change and poverty, based on an enforceable global emissions quota distributed in equitable shares.
Carbon 'offset' projects may salve our conscience but they won't solve the problem of global warming.
In order to be of help to those caught up in war and violence, we need to look deeply at the roots of war and violence in our own lives.
Regulars
A Sense of Place

- SAINTS AND SHEPHERDS • Lindsay Clarke

The ancient town of Chrission, on the island of Skyros.
Sensible Solutions

- BUILDINGS AND BUSES • Oliver Tickell

New ideas to promote housing choice and smoother long-distance bus journeys in the UK.

The radical intellectual Noam Chomsky.
Recipes

- HUMAN HIBERNATION • Rose Prince

Making use of the parts of vegetables we often throw away. Radish leaf dressing with early potatoes.
Notes From The Underground

- BOTTOM-UPPY - GRASS-ROOTY • David Nicholson-Lord

A light-hearted look at forward-planning strategies.

Garden boundaries offer an opportunity to create beautiful, indigenous wildlife havens. Some plants for hedges and edges.
The Long View

- THE NECESSITY OF WAR • Harry Eyres

Indulgence in luxuries inevitably leads to war.
The Big Picture
The Himba women of Namibia cover their bodies in pigment to protect them from the sun. From Africa by Oliver Föllmi.
Letters to the Editors
The Arts
An anthology of new voices: Patrick Bond, Ann Williams, Janice Fixter, James Simpson.
Time spent in rarely touched terrain. A short story by Hayden Gabriel.
Norman Adams was a visionary painter of profound and intense relevance to our times.
The Croatian artist Ivan Rabuzin depicts a life in which only beauty exists.
Yuli Somme creates soft and cocooning felted wool shrouds.
Bare feet feel the Earth directly, as an extension of ourselves.
Reviews
Review of The global legacy of the East India Company.
Review of Fair Trade for All: How Trade Can Promote Development by Joseph E. Stiglitz and Andrew Charlton. Free trade is not the route to fair trade.
Review of Towards Ananda: Rethinking Indian Art and Aesthetics by Shakti Maira. The movement of the human spirit towards joy is the central purpose of all art and philosophy.
Review of Painting at the Edge (ed.) Laura Newton and Making Waves by Ian Collins
Review of Evening Thoughts by Thomas Berry
Review of Freakonomics by Steven D. Levitt and Stephen J. Dubner
Review of Green Places to Stay (ed.) Richard Hammond
Review of The Ethical Careers Guide (ed.) Gideon Burrows
Review of The Spirit of Silence by John Lane
Review of Spring Nature Activities for Children by Irmgard Kutsch and Brigitte Walden and Autumn Nature Activities for Children by Irmgard Kutsch and Brigitte Walden
Review of The Secret Life of Trees by Colin Tudge
Review of Literature and the Crime Against Nature by Keith Sagar
Review of We Need to Talk about the Funeral by Jane Morrell and Simon Smith, Organic Places to Stay in the UK by Linda Moss, Ecovillages by Jonathan Dawson, Living System by Bruce Nixon, An Inconvenient Truth (dir.) Davis Guggenheim
Web Exclusives
What is the role of today's writer?
The evolution of Theosophy