Give Resurgence & Ecologist — the perfect Christmas gift
Send your family and friends a distinctive gift that they can treasure, enjoy and appreciate all year.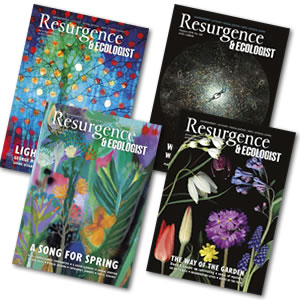 I just smile when it comes through the letter box and would never consider being without it now
Cynthia, Grantham
With every gift membership to The Resurgence Trust, we will send six issues of Resurgence & Ecologist a year - a treat for all those who enjoy inspiring, intelligent and thought-provoking content on environmental issues, sustainability, philosophy, arts and ethical living.

Plus, we'll send you 5 beautifully cards by Madeleine McClellan as a gift to you.
Send a Personal Message
Tell us what you'd like to say and we'll include your message in a card with the first issue.
To take advantage of this offer, use our secure online ordering using promotional code 'T350' during checkout, or call us on +44 (0)1208 841824. Don't forget to mention the Christmas offer when you call.
Order now for delivery at Christmas.
Gift Membership Subscription - six issues of Resurgence & Ecologist a year
To order a gift membership for your friends and relatives simply use this form. We'll take care of everything else.
If you have any queries or would like more information, please do not hesitate to phone our membership team who will be happy to help, tel: +44 (0)1208 841824.