Give a gift of hope and inspiration this Christmas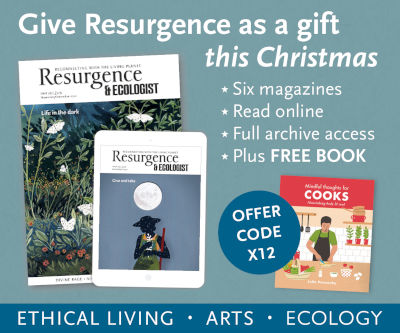 Give a gift that will make a difference...
Treat your loved ones with a membership to The Resurgence Trust and gift them with timeless wisdom whilst helping the planet and supporting Resurgence all at once!
This year, our exclusive gift membership includes:
Six print issues of Resurgence & Ecologist magazine a year (includes FREE online access)
Digital access to our 50+ year archive of trail-blazing articles
A free copy of 'Mindful Thoughts for Cooks: Nourishing body & soul' - a book packed with thoughtful insights into holistic health and wellbeing. (New memberships only, while stocks last.)
Updates on Resurgence events, such as our monthly talks and annual Festival of Wellbeing.
Use promotional code X12 to claim this gift membership offer.
PRE-ORDER HERE FOR CHRISTMAS DELIVERY
Take out 1 year, UK print membership for someone else:
Take out 1 year, UK print membership for yourself:
You can also take out memberships for longer periods or for outside the UK:
Prefer to call? Ring +44 (0) 1208 841824 between 09:00-17:00, Mon-Thu. Please mention the 'free book offer' when you call.
Resurgence & Ecologist
A far cry from the doom and gloom of mainstream media, Resurgence & Ecologist offers holistic, progressive and practical solutions to the most pressing issues of our time. It connects readers with a global community of authors, artists and change-makers, featuring articles on ecology and economy, peace and politics, creativity and community, and solutions for society. This much-loved magazine and its 50+ year archive reminds its readers that a better world is possible.
Time spent reading Resurgence & Ecologist is something that I savour. Always blissfully designed and presented, it challenges and inspires in equal measure.
Joanna Lumley
Exclusive free book offer - Mindful Thoughts for Cooks
This year, when you order a Christmas gift membership, we'll send your loved one a FREE copy of Mindful Thoughts for Cooks by Julia Ponsonby, rrp £5.99 (while stocks last!).
Embracing cooking as a spiritually-nourishing meditation is a deliciously simple path to reconnecting ourselves to what we eat every day this beautifully illustrated little book reminds us how to do it. Holistic cook Julia Ponsonby shares the true value of eating homemade, real food, mixing together practical and soulful ingredients with a dash of nature's alchemy, to present a carefully crafted dish that every discerning cook will want to taste and savour.
This Christmas send your loved ones gifts filled with positivity and uplifting wisdom.
Use promotional code X12 to claim this gift membership offer.
How It Works
Click the 1 year, UK gift button or More membership options button.
Choose your membership type.
At check out add promotional code X12 when prompted
Click 'provide more information' link on the check out page to add details for the gift recipient
Choose whether to receive the first issue now or in time for Christmas (don't forget to check the postage dates if you are ordering for someone overseas)
Add a personalised note if you wish. You'll be asked for this on the 'provide more information' page during the checkout process
Pay using our secure payment system
Sit back and relax, knowing that you've just sent a unique gift that will be treasured all year
* Offer applies to new print memberships only, while stocks last - so if you want this book, don't wait till the last minute to order!
Prefer to order by phone or have a question? Simply call us between 09:00-17:00, Mon-Thu on +44 (0) 1208 841824. Please mention the Free book offer when you call.
Please check the Christmas postage dates before ordering.
People in the UK will receive Jan/Feb 2020 as their first issue, but people overseas will receive the Nov/Dec issue unless otherwise requested - as the Jan/Feb issue is published too late for overseas delivery in time for Christmas.
Xmas postage dates
Last ordering date for arrival before Christmas:
07 December • Africa, Asia, Caribbean, Central & South America, Far and Middle East
09 December • Cyprus, Malta, Australia, Greece, Eastern Europe (except Slovakia), Finland, Italy, Poland, Sweden, Turkey, New Zealand, Canada and USA
14 December • Austria, Denmark, Germany, Iceland, Netherlands, Norway, Portugal, Slovakia, Spain, Switzerland
16 December • Belgium, France, Ireland, Luxembourg, UK
If you have any queries, please call our membership team who will be happy to help, tel: +44 (0)1208 841824 (9-5, Mon-Thu).