Give a gift that will make a difference...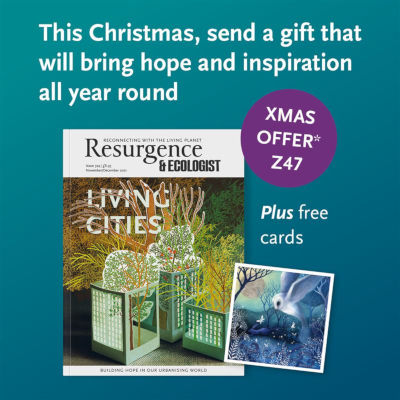 Treat your loved ones with a membership to The Resurgence Trust and gift them with timeless wisdom whilst helping the planet and supporting Resurgence all at once!
This year, this exclusive gift membership includes:
Six print issues of Resurgence & Ecologist magazine a year (includes FREE online access)
A free pack of gift cards featuring artwork by Amanda Clark (rrp. £5)*
Access to an exclusive, online members event which will bring together talks, meditation and the arts whilst connecting you with a community of like-minded people.
Digital access to 50+ years of timeless articles from Resurgence & Ecologist magazine.
* Offer available to new print memberships only, while stocks last.
Prefer to call? Ring +44 (0) 1208 841824 between 09:00-17:00, Mon-Thu. Please mention the 'Christmas Gift Membership Offer' when you call.
Resurgence & Ecologist - sharing ideas that create change
By embedding joy and hope and imagination into their work, I really think The Resurgence Trust has formulated something quite magical, very informative and undeniably transformative. The world needs more like them!
Bella Lack, Conservationist
This trailblazing magazine offers positive and progressive perspectives on the most pressing issues of our time. Hope-inspiring and informative, Resurgence & Ecologist explores environmental and social justice, nature, ecology, food and farming, ethical living, spirituality, and the arts.
Resurgence & Ecologist is published by The Resurgence Trust, an educational charity that seeks to inspire reconnection to the living Earth and contribute to a just future for people and planet.
How It Works
Click the 'Order here' button.
Select whether the membership if for 'myself' or 'someone else'.
Select the issue you would like to start with.
Add your message in the 'Gift Message' box. We will send this message to the gift recipient with their first magazine.
The free pack of cards will be sent to you unless you include an additional note in the 'gift message box' to say 'send cards to recipient'.
Please note: If you followed the links from this page, the Christmas offer promotional code with automatically be added. If you order through any other link you will need to add Promotional Code Z47 to claim the 'free cards' offer.
* Offer applies to new print memberships only, while stocks last - so don't wait till the last minute to order!
Prefer to order by phone or have a question? Simply call us between 09:00-17:00, Mon-Thu on +44 (0) 1208 841824. Please mention the Free cards offer when you call.
Please check the Christmas postage dates before ordering.
People in the UK will receive Jan/Feb 2022 as their first issue, but people overseas will receive the Nov/Dec 2021 issue unless otherwise requested - as the Jan/Feb issue is published too late for overseas delivery in time for Christmas.
Xmas postage dates
Last ordering date for arrival before Christmas:
International orders
29/11/2021 Caribbean 01/12/2021 Australia and New Zealand
06/12/2021 Africa, Asia, Central & S America, Far and Middle East
08/12/2021 Cyprus & Malta, Greece, Turkey, Eastern Europe, Czech Republic, Finland, Italy, Poland, Sweden, USA & Canada
15/12/2021 Austria, Denmark, Germany, Iceland, Ireland, Netherlands, Norway, Portugal, Slovakia, Spain, Switzerland, Belgium, France, Luxembourg
UK
15/12/2021
More membership options
If you have any queries, please call our membership team who will be happy to help, tel: +44 (0)1208 841824 (9-5, Mon-Thu).