Welcome to Resurgence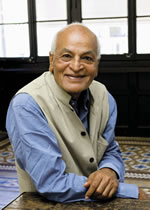 Ethical banking is the most important act anyone can do to help change society and create a more sustainable world.
Satish Kumar
Resurgence aims to inspire people to make a difference. Ethics are at the heart of what we do, so we are delighted to be working more closely with Triodos where we have been banking for decades. We believe that money should be a force for good.
Resurgence offer for new Triodos customers
As a thank you for opening a current account, savings account or cash ISA with Triodos Bank, you can claim a free 16 month membership subscription to Resurgence when your balance reaches £100 *.
As a member you'll receive 8 issues of Resurgence & Ecologist magazine, PLUS full access to our 50-year digital archive. Your membership also includes access to the full archive of The Ecologist magazine (back to 1970).
Every issue connects readers to our global community of authors, artists and change-makers - united in a shared vision for a more sustainable world.
If you are already a member, you can give this 16-month membership subscription as a gift to someone else.

How does it work?
Click the button below for a Membership Subscription, or a Gift Membership Subscription.
Choose an option to either log in, or - if you are not already registered on the Resurgence website - provide your details. (Not necessary if you have already logged in).
Enter the code you have been given by Triodos into the Promotional Code box, and click Apply. This will ensure that your membership will be free of charge. (The code is TRD followed by 6 digits.)
Click the 'Checkout' button at the bottom of the page.
Click 'Provide Extra Details' button at the bottom of the page.
Enter the details for the membership, including information about the gift recipient if required.
Choose which issue to start your membership with.
Click the 'Submit' button.
Click the 'Confirm' button.
We will send your first issue in the post to arrive within 2 weeks, and we will send you details of how to access the 50-year digital archive.
Choose either:
or:
We look forward to welcoming you to a world of inspiration and wisdom, and to a community of readers who believe in One Earth, One Humanity and One Future!
* This offer is available in the UK only, and is limited to one subscription per new Triodos customer.
If you have any queries or would like more information, please do not hesitate to phone our membership team who will be happy to help, tel: +44 (0) 1208 841824.

Triodos supports people and businesses who are making a positive impact on the world we live in, bringing people together to help build an extraordinary movement for social, environmental and cultural change. Grassroots projects, renewable energy schemes and community initiatives can flourish because a community of savers has decided that their bank should fund projects that have positive environmental and social impact.
Visit www.triodos.co.uk/resurgence for eligibility, terms and conditions for this offer