10:10:10 • To boldly go where carbon cutting has not gone before
When we heard that the two most contemporary carbon-cutting campaign organisations, 10:10 and 350.org, had chosen a Sunday as the day of the week to co-ordinate the world's biggest-ever day of positive action on climate change - we couldn't resist joining forces with them for a 10:10:10-themed Slow Sunday.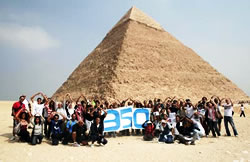 For 10:10:10 (so called because it's held on October 10, 2010) thousands of individuals will be taking simple steps to save energy and reduce emissions.
You can find out more about the event here
Slow communication cherishes the power of personal recommendation. So, for this Slow Sunday we are asking you to devise a plan for introducing 10:10 to people who haven't heard about it before. You could even initiate such introductions on 10th October itself by bringing together friends or family for a low carbon Sunday lunch. If your close acquaintances are 10:10 savvy already - then the time could be used to think about opportunities the following week for telling ten people about 10:10.
10:10:10 events
Maybe you could spend some time on 10:10:10 planning a 10:10-themed event at your workplace, school or community organisation for the following week. Here are some possibilities:
Plan a 10:10 cycle or walk to work day - raising awareness of 10:10 and low carbon travel at the same time.
Freshen up your wardrobe for free with a Swishing event - encouraging staff to bring unwanted items of clothing in to work and swap them.
Identify champions from other local organisations who you can ask to sign up to 10:10 and invite them for a bring-and-share, locally sourced networking lunch.
Whatever you do - remember to record your event on the 10:10:10 website
Photo Credit
The Cairo Cyclist club rallies for 350 at the Great Pyramids of Egypt. Photograph: courtesy 350.org