Other Sections
In your basket
Total £0.00
15 copy lucky dip bundle of Resurgence & Ecologist magazine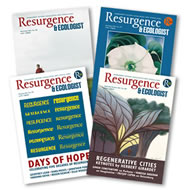 An exploration through the archive of Resurgence & Ecologist. In 2016 we celebrated 50 years of publication! So, we invite you to take a look through a selection of our archive issues. We will select 15 back issues of Resurgence & Ecologist, ranging from the first 'joint' issue published in September/October 2012 (issue 274) through to January/February 2020 (issue 318), for you to enjoy.
These issues of Resurgence & Ecologist include articles by our highly-respected contributors - environmentalists, visionaries, scientists, activists and artists. Inside, you'll also find our regular columns, plus poetry to inspire you, and of course a splash of colour within our Arts pages.
Beautifully-designed and illustrated, each issue includes a piece by Satish Kumar, our editor for 43 years - bringing his unique perspective as a former-Jain monk, peace activist and visionary to the pages of Resurgence & Ecologist.
Add one of '15 copy lucky dip bundle of Resurgence & Ecologist magazine' for £20.00
Item code: reib015