Audio CD Indian Wisdom: Fireside Chats (Schumacher College)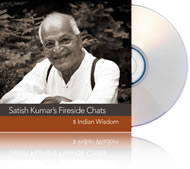 There is no separation between daily living and spirituality. This is the most beautiful kernel of the Bhagavad-Gita.
Satish shares with us the knowledge and wisdom of the Hindu and Jain religions. He also introduces us to the philosophy of his teacher, Vinoba Bhave as well as to the Bhagavad-Gita. He talks of what we can learn from them about 'right action', karma and the essential need for non-violence both within ourselves and in society.
This CD forms part of a series of Fireside Chats by Satish Kumar, recorded during his time teaching at Schumacher College. Produced by Shelley Williams, Reel Soul
Special Price £3.00 (rrp £6.00)
ADD ONE of 'Audio CD Indian Wisdom: Fireside Chats (Schumacher College)' for £3.00 [RECD013]