Other Sections
In your basket
Total £0.00
Audio CD Meditation: Fireside Chats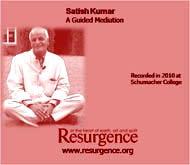 by Satish kumar
This CD forms part of a series of Fireside Chats by Satish Kumar, recorded during his time teaching at Schumacher College in 2009. In this inspiring set of talks, Satish unites spiritual values with practical approaches to engage in your daily life. Covering subjects ranging from literacy and science to art and pilgrimage, this series of informal talks provides timeless wisdom for listeners to draw upon for years to come. In this CD, Satish Kumar leads a gentle and relaxing 20 minute guided meditation session to restore your soul.
Special price £3.00 (rrp £4.50)
This product is not currently available.