Other Sections
In your basket
Total £0.00
Audio CD Spiritual imperative (Bristol 2004)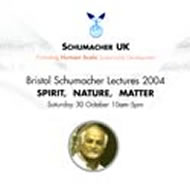 By Satish Kumar
Schumacher Lecture by Satish Kumar
Recorded live at the Bristol Schumacher Lectures 2004
The theme of the Bristol Schumacher Lectures was to investigate the meaning of the word spirit in an age in which materialism has drowned out the deeper meaning of life, and in which we have lost touch with nature. In the process of this undermining of the human spirit we have been discouraged from seeking to cultivate it within each of us.
The 2004 Bristol Lectures were presented by three eminent speakers who have made their life's work the search for the meaning of spirit, and the finding of ways of re-enchanting the world. Speakers: Satish Kumar, Christopher Alexander and Miriam McGillis.
For further information on the Schumacher Society, or to purchase the DVD of the Schumacher Lectures 2004 please email admin@schumacher.org.uk or visit www.schumacher.org.uk
This product is not currently available.