Audio CD We are all Related: Fireside Chats (Schumacher College)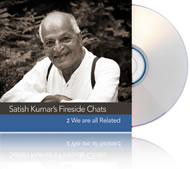 There is no great distinction between who is a teacher and who is a student. We are always both.
Satish talks about what he learnt from his great teachers, especially how 'everything is always related'. He speaks of the crisis that emerges when there is separation and disconnection. He introduces us to what ecology is and our place in it. 'How much value can we put on the air?' He also speaks of relationship, of harmony and how ecology and economy are twins; one cannot exist without the other.
This CD forms part of a series of Fireside Chats by Satish Kumar, recorded during his time teaching at Schumacher College. Produced by Shelley Williams, Reel Soul
Special Price £3.00 (rrp £6.00)
ADD ONE of 'Audio CD We are all Related: Fireside Chats (Schumacher College)' for £3.00 [RECD010]