Convivial Policies for the Inevitable - Global Warming, Peak Oil, Economic Chaos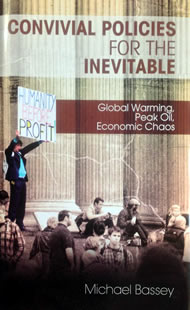 This compelling book takes a look at peak oil, global warming and economic decline. Michael Bassey examines where we went wrong and what we can still do to avert disaster. His analysis is hard-hitting and visionary.
In a lively and accessible way, this book presents a rounded critique of the parameters of how we in the west are living, and offers a plausible prescription for how these parameters should change to assure not just ecological sustainability, but also social improvement.
"This book deserves to be read by everyone who cares about their grandchildren's inheritance and the future of the planet." Professor Patricia Broadfoot, CBE
Read a review of this book on the Ecologist website
Author: Michael Bassey
ISBN: 9781846248061
Publisher: The Book Guild
243pp Hardback
Now available at the special price of £5.00 (rrp £17.99)
ADD ONE of 'Convivial Policies for the Inevitable - Global Warming, Peak Oil, Economic Chaos' for £5.00 [REBK044]