Other Sections
In your basket
Total £0.00
Earth Pathways Diary 2013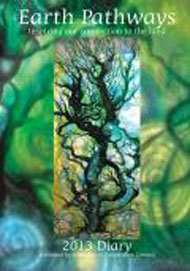 Inspiring our connection to the land
A celebration of the work of UK artists and writers who share a deep love for our land and a vision of a sustainable future for all. A source of inspiration for people creating positive change in their lives, this year¹s Earth Pathways includes the 'Whole Body Prayer' by Satish Kumar.
The diary has a page-a-week view, month-at-a-view planners, year planner and notes pages. It includes moon phases and signs, sunrise and sunset times and some astrological information for the UK.
146 pages
21cm x 15cm
This product is not currently available.