Other Sections
In your basket
Total £0.00
Earth Pathways Diary 2020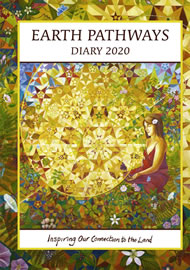 SOLD OUT!
A full-colour diary with art, poetry and prose to inspire our connection to the land.
The Earth Pathways Diary is a celebration of the work of UK artists and writers who share a deep love for our land and a vision of a sustainable future for all.
More than just a diary, it is a networking resource and inspiration for the growing community of people who are willing to actively create positive change in their lives for the benefit of the Earth.
All the artwork and writing is placed within the context of the seasonal cycle and the Celtic Wheel of the Year. It includes Moon phases and signs, sunrise and sunset times, moonrise and moonset times and some astrological information for the UK. It has a page a week view, month at a view planners, year planner and notes pages. Published by Moonshares Cooperative Ltd.
Dimensions: 210mm x 150mm x 10mm
Paperback 244 pages
Spiral bound.
This product is not currently available.