Other Sections
In your basket
Total £0.00
Earth Pilgrim DVD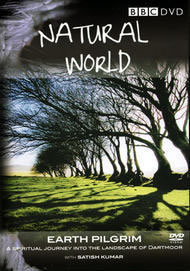 Earth Pilgrim DVD
Earth Pilgrim: A Spiritual Journey into the Landscape of Dartmoor with Satish Kumar
Back in the shop due to popular demand, but only limited stock available!
Produced as part of the award-winning Natural World Series for the BBC. The BBC's Natural History Unit has brought the marvels of the planet to millions of viewers using breathtaking photography and pioneering film techniques.
Conservationist Satish Kumar spends one year exploring the beauty of England's Dartmoor National Park. Satish, the world-renowned ecologist, former Jain Monk and pilgrim for peace offers a very Indian perspective on the ancient moorlands through the changing seasons. Backed by exquisite photography, he guides viewers on a lyrical and richly spiritual journey across a beautiful landscape.
Walking the moor and exploring woods and rivers, home to a wealth of wildlife including red deer, starling roosts, kestrels and foxes, Satish introduces the Dartmoor scenes and sights that most inspire him - gnarled oak woods, rushing rivers, stags in rut, wild tracts of heather, cuckoos hungry for food, the metamorphosis of moths - and contemplates what they reveal, and the lessons they hold for humanity.
This DVD is only available as Region 2 (which does not cover USA, Canada or US Territories).
This product is not currently available.