Ecologist Guide to Fashion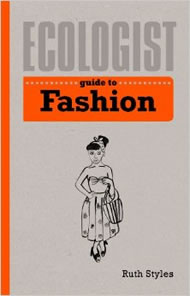 Want to know which textile options are the greenest? Worried about workers' rights? Interested in the recycling renaissance and the rise in eco fashion? Look no further.
Drawing on their extensive archives, as well as much new material, the Ecologist Guide to Fashion offers an enlightening insight into the garments we wear everyday.
The fashion industry is constantly evolving, with each season bringing a host of new trends, fabrics, cuts and silhouettes to the forefront. But fashion's main strengths innovation and creativity are also, in environmental terms, its Achilles' heel. Carbon dioxide emissions, tons of landfill, harsh chemicals, animal cruelty these are some of the shocking truths incurred by the textile industry and the fast-paced fads that our wardrobes try to keep up with.
But what if our denim jeans could be made to last for a lifetime? What if all of our accessories could be beautifully manufactured using upcycled rubbish? Can ethical clothing's once unstylish image be consigned to the history books? As well as revealing the upsetting practices behind the brands, journalist Ruth Styles explores the positive changes the fashion industry is making, celebrating emerging ethical talent and recognising those large corporations taking positive steps in a greener direction. The Ecologist Guide to Fashion is, quite simply, your ultimate handy guide to eco fashion.
Leaping Hare
ISBN: 978-1-78240-055-4
144pp, paperback
This product is not currently available.