Other Sections
In your basket
Total £0.00
Ecologist Guide to Food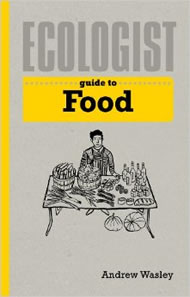 Drawing on The Ecologist's unique archive as well as containing much new material, the Ecologist Guide to Food delves behind the labels to investigate the often-unpalatable truths about the foodstuffs we consume each day.
As well as uncovering the sometimes shocking practices in existence, this guide takes a look at possible alternatives for the food industry, giving a voice to some of those going against the grain to produce food that is good for you, good for others and good for the planet.
The Ecologist Guide to Food: lifts the lid on the environmental, political, health and humanitarian issues surrounding our food; uncovers the truth the food industry doesn't want you to know; and provides a guide to ethical alternatives, highlighting those companies making changes.
The Ecologist is the world's leading environmental affairs title and has been setting the environmental agenda for over 40 years - bringing the critical issues of our time into the mainstream through cutting-edge reporting, as well as pioneering original thinking and inspiring action.
Leaping Hare
ISBN: 978-1-78240-054-7
144pp, paperback
This product is not currently available.