Other Sections
In your basket
Total £0.00
Images of Earth and Spirit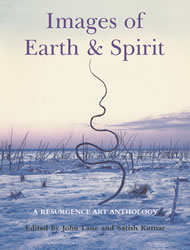 Edited by John Lane and Satish Kumar
"Resurgence has been a longtime friend to artists looking to forge a meaningful relationship between art and soul. Readers who treasure this rich and varied artistic lineage may now enjoy its startlingly sensuous images within the pages of a single, elegantly designed book." • Suzi Gablik, author of 'The Re-enchantment of Art' and 'Living the Magical Life'
Images of Earth & Spirit features the work of over fifty artists: over 140 sumptuous illustrations accompanied by interviews and insights into their work. Artists featured include Robin Baring, Cecil Collins, Alan Davie, Morris Graves, Andy Goldsworthy, Andrzej Jackowski, Richard Long, John Meirion Morris, David Nash, Margaret Neve, Peter Randall- Page, Haku Shah, Jane Siegle, Evelyn Williams and Christopher Wood.
All the artists have been featured in the pages of Resurgence magazine, an international forum for ecological and spiritual thinking. Besides challenging much of the conventional wisdom of our times (including the dream of unending material progress), Resurgence stresses the wisdom of beauty and, above all else, the holistic view – the relevance of interconnectedness. The work of these artists speaks of a new sense of the universe, a new sense of spirituality, holism and interconnectedness, openness and non-determinism. It gives hope for the renewal of life in the future.
Price: £20
Hardback
ISBN: 1-903998-29-8
Dimensions: 288mm x 215mm x 15mm
This product is not currently available.