Nature Journal: Seasonal Creative Projects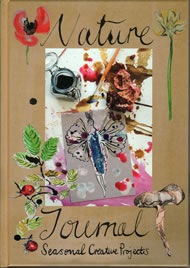 A collaborative project between the Norwegian photographer and artist Marianne Wie and the English artist Zoë Bur this book is an art journal filled with seasonal recipes and creative projects in the form of photographs, illustrations and short texts. It invites the audience to experiment with camera-less photography techniques such as cyanotype and lumen, natural dyeing on textiles and paper, as well as other analogue creative processes like flower contact printing and how to make botanical inks.
Each season has its own chapter, which opens with a self-portrait. The chapters follow the seasons in terms of what nature has to offer in materials and inspiration. Behind each chapter are 6 blank pages to be filled with the owner's own field-notes, sketches and ideas. Families and friends can carry out projects while spending time outdoors together. With a little planning, the projects in the book can be done when out exploring woods, the seaside, mountains, parks, in the garden or on the kitchen table. Nature Journal is intended as an inspiration and gift item for people interested in art and nature and connecting creativity with their environment.
ADD ONE of 'Nature Journal: Seasonal Creative Projects' for £18.00 [RECP016]