Other Sections
In your basket
Total £0.00
No Destination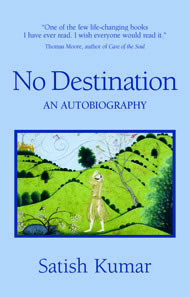 By Satish Kumar
At the age of nine, Satish Kumar renounced the world and became a wandering Jain monk. Leaving the monkhood when eighteen, he joined Vinoba Bhave's campaign for land reform, working to turn Gandhi's vision into reality. He undertook an 8,000 mile pilgrimage, walking from India to America without any money, through deserts, mountains, storms and snow.
Since 1973 he has lived in Britain, becoming the guiding light behind a number of ecological, spiritual and educational ventures. Written with a penetrating simplicity, No Destination is an exhilarating account of an extraordinary life.
This product is not currently available.