Other Sections
In your basket
Total £0.00
Pilgrimage for Peace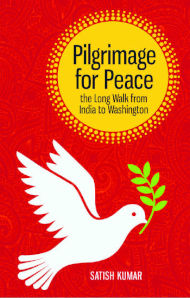 Pilgrimage for Peace: The Long Walk from India to Washington by Satish Kumar
This book will be available from 27th May 2021.
In this remarkable book, Satish Kumar shares the intricate details of his journey on foot from Delhi to Washington with E.P Menon in 1962. He recalls the people he met along the way and the conversations they shared. An intimate and very personal account of an extraordinary adventure.
"We can talk about peace, we can write about it, and Satish Kumar has done this all his life, and to great effect. However, until I read his wonderful book, I never knew he had walked for it too. For two and half years he walked for it, 8000 miles from Delhi to Washington.
In a way his whole life has been one long walk for freedom and justice, harmony and peace. Yes, it is an extraordinary adventure, but it is much more than that. This walk was his statement of intent, as a determined and dedicated young man. His life would be this walk. This journey for peace would be his life. Here is a book that inspires us to follow in his footsteps, that gives us all hope." – Michael Morpurgo, author
"Satish Kumar is one of our more remarkable fellow humans. If you don't know his story, now is the moment to learn it!" – Bill McKibben, climate activist, author of The End of Nature
ISBN: 9780857845290
Publisher: Green Books
This product is not currently available.