Bread Matters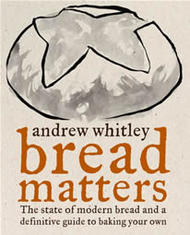 by Andrew Whitley
"The best food book of the year. Part counterblast against the shocking state of British baking, part manifesto for us all to get our hands floury and do something about it. Essential reading for anyone who cares about their daily loaf." • David Baker, Financial Times.
Special offer to Resurgence readers and members.
Order today and receive a discount on the normal retail price of £16.99.
Andrew Whitley, founder of the celebrated Village Bakery in Melmerby, is a uniquely experienced organic baker, and this is his foolproof guide to baking real, nutritious bread at home. From simple loaves to wheat-free and gluten-free cooking, he explains the baking process, demystifies the science and shares the practical craft he teaches on his popular baking courses.
Delving into the deplorable state of modern British baking, Bread Matters reveals how commercial bread is laced with additives, made from wheat selected with little regard for its nutritional value, and in some cases, frozen and reheated then sold as fresh. Exposing the madness behind the adulteration of our most basic food – the staff of life – Andrew Whitley shows why and how to make real bread at home, guiding and inspiring beginners and seasoned bakers alike.
This product is not currently available.