Earth From Above - The Fragile Planet (2 DVD set)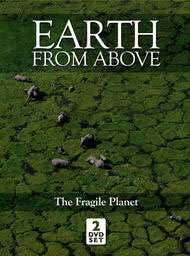 2 DVD Set
Earth as you have never seen it before! Hosted by world-famous photographer, Yann Arthus-Bertrand, Earth From Above is the critically-acclaimed series which reveals Earth's beauty and fragility. Earth From Above is a stunning visual portrait of Earth's ecological health. Shot in high definition, the DVD shows how we are compromising our wildlife and resources, and thereby endangering our own existence.
Disc 1 - Everything is Living, Everything is Linked
Our understanding of bio-diversity has shown us that for every action that man takes, there is a reaction in nature. Often, this is catastrophic. Actions such as the destruction of hippos in the Congo and the deforestation of Tasmania are all harming the balance of our eco-system.
Disc 2 - Water is Life
Fresh water supports more forms of life than are in our oceans. Although water is the most sought after commodity in the world, it is also the most squandered. A rich man never wants for water, but should water be treated as a commodity?
This product is not currently available.