Other Sections
In your basket
Total £0.00
Earth From Above - Saving Our Planet (2 DVD set)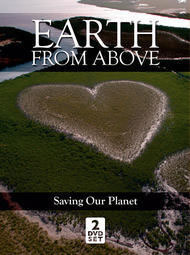 2 DVD Set
Earth as you've never seen it before! Hosted by world-famous photographer, Yann Arthus-Bertrand, Earth From Above is the critically-acclaimed series which reveals Earth's beauty and fragility. Earth From Above is a stunning visual portrait of Earth's ecological health. Shot in high definition, the DVD shows how we are compromising our wildlife and resources, and thereby endangering our own existence.
Disc 1 - Saving the Sea
Over 70% of the oxygen we breathe comes from the sea - so why do we pollute it? Global warming, pollution and over-fishing threaten the existence of over one-third of all fish species. In this episode, Yann meets the people who are fighting to save the Sea's wildlife in order to safeguard our future.
Disc 2 - Saving the Earth
In the last thirty years, man has consumed 50% of the world's resources. This exploitation is damaging our fragile ecological system. So how do we balance the desire for expansion and consumer goods with a respect for Earth's limited resources? Yann discovers the pioneers finding innovative ways to achieve sustainable development.
This product is not currently available.