Other Sections
In your basket
Total £0.00
LifeLines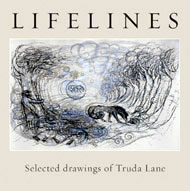 This series of drawings by longstanding Resurgence artist Truda Lane evokes the magic of natural landscapes and of our inner worlds.
In her simple but highly tensile compositions there is an economy of wash and hints of colour that seem to spring naturally from the drawing itself. The subjects are simple, graphic, often severe, and intensely poetic. One can sense Truda's fascination and conversancy with an inner world and its store of traditional reference and meaning. There are stories abroad; magic; spellbound moments frozen from folk tale, with all their ambivalence of light and dark.
Now available for just £7 (RRP £10)

The Author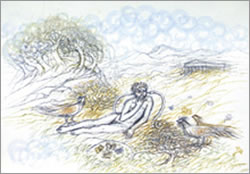 Truda Lane studied at the Slade School of Art and has continued to draw throughout her life whilst bringing up four children. She has been a regular illustrator for Resurgence magazine for many years, and her work has been exhibited many times. She lives in north Devon with her husband and several cats. This is her first book.
ISBN: 9781900322959
Paperback
72pp in colour and b&w
200mm x 200mm
Publisher: Resurgence
ADD ONE of 'LifeLines' for £5.00 [REBK016]