Kids in the Garden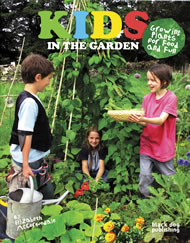 Kids in the Garden is an easy and fun guide for children to use on their own or with adults, and encourages children to learn about gardening, healthy eating and caring for the environment. With easy to follow step-by-step instructions, bright photography and fun illustrations.
Featuring 50 projects, suitable for children aged five upwards with supervision, or older children to complete on their own. Full instructions on materials, companion plants, saving resources, harvesting seasons, seeds, and indoor gardens. Facts on wildlife in your garden, as well as how to make a mini pond, birdhouses, building a wormery, and much, more. A guide to growing every day plants and vegetables, plus simple recipes to make with the fresh produce, including one pot jam, minty fizz and easy pizza sauce. Includes 256 black and white and colour illustrations.
Publication details
Author: Elizabeth McCorquodale
Binding: Paperback, 96 pages
Imprint: Black Dog Publishing
ISBN: 9781906155926
Format: 270mm x 210mm
Price: £8.95
This product is not currently available.